David Beckham Now Has His Own Grooming Line
Want to look like David Beckham? You're in luck.
---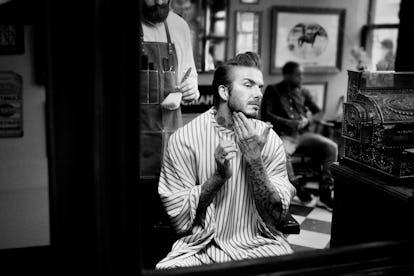 Courtesy of L'Oreal Luxe.
As one of the most prominent figures in the world of sports and fashion, soccer superstar David Beckham is adding a new venture to his repertoire—beauty—and he is taking it worldwide, announcing the global launch of his grooming line, House 99. Done in partnership with L'Oréal Luxe and soon to be available in 19 countries, the line will consist of 13 innovative hair, skin, beard, and—of course—tattoo products, ranging from facial moisturizers to beard and hair balms.
Exclaiming his excitement over the highly anticipated launch, Beckham shared, "I'm so excited to finally share House 99 with everyone around the world! For me, grooming is not only about how you look, but how you feel. It's about being comfortable, trying new things and shaping your next look. I created House 99 to give people the inspiration as well as the right products to experiment and feel completely at home doing so. House 99 is here to support men, to give them the tools they need to create whatever look they are going for. Welcome to the house."
And while Beckham's mission is to give "all the tools men need to experiment with their look in order to express their own evolving style and unique identity", the significance behind the brand's name is something of great meaning to Beckham as well. According to a press release issued by the brand, "the word 'house' reflects David's goal to build an inclusive community of grooming aficionados, to share style tips and recommendations in order to conquer every look and inspire new creations,' while the number 99, which he has tattooed on his hand, marks a momentous year in both his personal life and career. He married Victoria, his eldest son, Brooklyn was born, and Manchester United won the treble."
And since the soccer star has already gotten an incredible start with his over 30 fragrances, Beckham alongside wife and makeup mogul, Victoria, are well on their way to becoming a beauty empire. Beckham's new grooming brand will be available in the US, exclusively at Ulta, starting on March 4th.
Related: A Guide to Celebrity Perfumes, from Rihanna's Reb'l Fleur to Jennifer Lopez's Glow
Jourdan Dunn Thinks Victoria Beckham Is Fashion Royalty