David Beckham Reveals His "Biggest-Ever Regret" in New Interview
It doesn't have to do with his wife.
---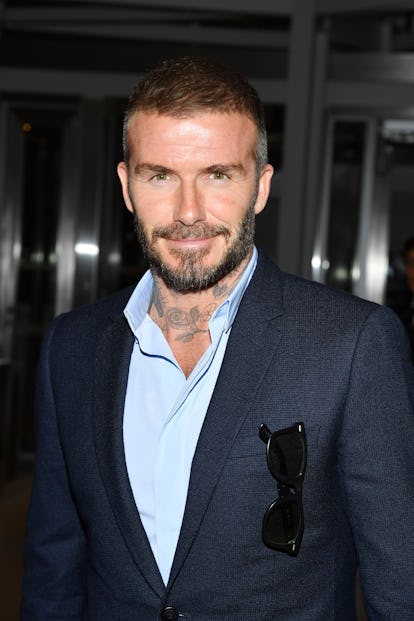 Pascal Le Segretain
After releasing a preview earlier this week, David Beckham's tell-all interview with Australia's The Sunday Project is finally here.
In the interview, the 43-year-old soccer star opened up to journalist Lisa Wilkinson about his biggest regret. It turns out that Beckham is still embarrassed about a specific time when he met with a world leader, reports Daily Mail. While laughing, Beckham said he regretted the hairstyle he wore when he met with former South African president Nelson Mandela in 2003.
"There was also one photo I have of meeting Nelson Mandela with cornrows," Beckham recalled. "There I was with one of the greatest and inspirational men, and I've got cornrows!"
The hairstyle famously ignited conversation after Mandela, who passed away in 2013, was asked by journalists about his opinion of the look. "Well, I am too old to express an opinion on the latest developments by young people," Mandela replied.
Beckham also touched on his marriage to Victoria Beckham in the interview, saying, "I think marriage is always about hard work."
He added, "You make it work, you make difficult situations…er, like traveling away, being away from each other, you make it work."
The soccer star then spoke about how the couple raised their children. "You know your children, they want your time, and they deserve your time, and we are hardworking, and we feel that is the right way to bring up our children. To prove and to show them that actually you have to work really hard to be successful."
Beckham also discussed their recent British Vogue cover shoot, praising Victoria for her career as a mother and designer. "The amount she's achieved in such a short space of time…four beautiful young children, you know, we have a beautiful dog," he said. "But obviously in her business world, to be on the front cover of Vogue was a huge thing."
David and Victoria Beckham began dating in 1997 and wed in Ireland in 1999. The couple have four children together: Brooklyn, Romeo, Cruz, and Harper. The couple have spent years defending their marriage against rumors that they are on the edge of divorce. We may never know the truth about David and Victoria's marriage, but at least we know can count on them to be honest about the family's hairstyles.
A History of the World Cup in 14 Bad Haircuts
Apparently, Ronaldo now claims that this haircut was a tactical distraction from his leg injury during the 2002 World Cup. We think this is his tactical distraction from the worst haircut of all time.

Photo courtesy of Getty Images.
It's hard to say what Baggio will be more remembered for, his missed penalty to lose the 1994 World Cup or this rattail.

Photo courtesy of Getty Images.
No horses were harmed in the making of this hair cut.

Photo courtesy of Getty Images.
I don't know much about Rodrigo Palacio of Argentina. But I know I don't like whatever this is.

Photo courtesy of Getty Images.
Yes, thanks, we know. It's also on the back of your jersey.

Photo courtesy of Getty Images.
Photo courtesy of Getty Images.
Usually, the convention is the better you are at soccer the more crazy your hair is allowed to be. Pogba is really good—but is he this good?

Photo courtesy of Getty Images.
There's a long history of frosted tips and botched dye jobs among soccer players, from which Neymar is not immune.

Photo courtesy of Getty Images.
Who knew Jonathan Taylor Thomas was this good at soccer?

Photo courtesy of Getty Images.
"What should I do if they pull me by the hair? It sounds like a joke, but it really hurts," Fellaini once said. So it's real!

Photo courtesy of Getty Images.
The infinity pool of hairstyles.

Photo courtesy of Getty Images.
This is what is known in math circles as an asymptote.

Laurence Griffiths
Patient zero of the faux hawk epidemic.

Photo courtesy of Getty Images.
It's still a worldwide issue.

Photo courtesy of Getty Images.