David Beckham Says His Marriage to Victoria Beckham Is "Hard Work"
In a candid interview that's already reigniting those divorce rumors.
---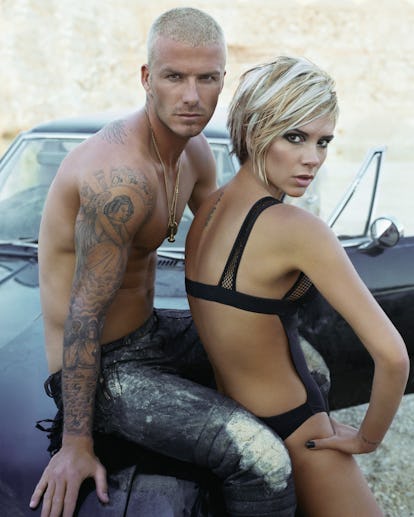 Photo by Steven Klein for W Magazine August 2007.
Nineteen years ago, David Beckham dressed up in an entirely purple suit, complete with a top hat, to marry Victoria Beckham, whom he's been with ever since. They first met in the Manchester United players' lounge in 1997, when, as Victoria later told W, she "didn't really know who he was," but by 1999, they'd not only been christened Posh and Becks, but gotten married, with help from their son Brooklyn, who served as their ring bearer. (They've since had three more children—Romeo, Harper, and Cruz.)
Also since then, though much more recently, David has given an update on their marriage and home life via an interview with the Australian TV show The Sunday Project, a 40-second preview of which is already causing quite a stir. Beginning with him smiling and saying, "I feel like I'm doing okay, but it's a struggle," it makes the all-caps promise that "nothing is off limits," and shows him reflecting on their two decades together: "To have been married for the amount of time that we have, you know, it's always hard work," he said. "It becomes a little more complicated."
That statement comes after gossip of spurious origin suggested that the pair, who recently walked their first red carpet together since 2015, was headed toward a split. Their rep swiftly shut down those rumors earlier this year, calling the speculation "all very bizarre and an embarrassing waste of time" and mincing no words when referring to the idea of nearing divorce as "a crock of s–t." While David and Victoria had already been fixtures on each other's Instagram before then, following their 19th wedding anniversary, this past summer, they both seemed to be making an effort to keep their feeds more family-focused, documenting their no fewer than four vacations together since.
Victoria still posts plenty of fashion photos, though, and hasn't been shy in defending their marriage over the past year. "If I really was as miserable as I look in some of those paparazzi pictures, my children wouldn't be as happy as they are," she told Dutch Vogue last year. "And I certainly wouldn't be married anymore."
Indeed, it may once again be putting the pair in headlines, but the latest from the Beckhams isn't exactly news. Plenty of the difficulties alluded to have been public, like David's misspelled tattoo of Victoria's name—a result of her reportedly feeling it was less "tacky" for it to be written in Sanskrit than English. They've also had to adjust to living with David's obsessive compulsive disorder, which he first spoke out about in 2006, sharing that it's led his wife to call him a "weirdo." ("We've got three fridges—food in one, salad in another, and drinks in the third. In the drinks one, everything is symmetrical. If there's three cans, he'll throw one away because it has to be an even number," she told The Independent at the time.)
And, in the early aughts, the pair weathered a tabloid scandal following reports that David had had an affair with his assistant. "I'm not going to lie. It was a really tough time," Victoria said in 2007, before adding pretty much exactly what David is now making headlines for saying more than a decade later. "David and I got through it together," she continued. "No one said marriage was going to be easy."
Related: Victoria Beckham: If I Was as "Miserable" as I Look, I Wouldn't Still Be Married to David Beckham
David and Victoria Beckham: American Idols
Victoria Beckham wears an Yves Saint Lauren embroidered black silk charmeuse dress; Brooks Brothers white cotton tank top. Her own bra. David Beckham wears Acne Jeans blue cotton denim jeans. Gucci sunglasses; Frye boots.
American Apparel nude cotton and spandex jersey leotard. On him: Daang Goodman for Tripp black cotton pants.
Follow W magazine on Twitter!
VPL nylon and spandex bra; nylon, spandex and cotton bodysuit; polyester and cotton briefs and belt. Alexander McQueen boots. On him: New York Fetish latex pants. Giles & Brother by Philip Crangi necklace over his own necklace; Made Her Think bracelet.
Agent Provocateur nude silk, nylon and elastane bra and briefs. On him: Dolce & Gabbana white nylon and elastane briefs.
Hermès black polyamide and elastane swimsuit. Alexander McQueen boots. On him: DSquared black cotton and nylon pants.
Just Cavalli leather pants.
Follow W magazine on Twitter!
Dolce & Gabbana nylon and polyamide maillot. On him: Adam Kimmel wool and cashmere cape.
The Beckhams with Giorgio Armani at the Met Costume Institute gala.

Photographer: Steve Eichner
Victoria Beckham and Jennifer Lopez at the Marc Jacobs Spring '09 show.

Photographer: Steve Eichner
Victoria Beckham and Jennifer Lopez at the Marc Jacobs afterparty.

Photographer: Steve Eichner
An image from a Marc Jacobs campaign starring Victoria Beckham.
Follow W magazine on Twitter!