Victoria Beckham Has a Great Reason for Not Smiling at the Royal Wedding
Especially now that she's turned the negative press into a merch opportunity.
---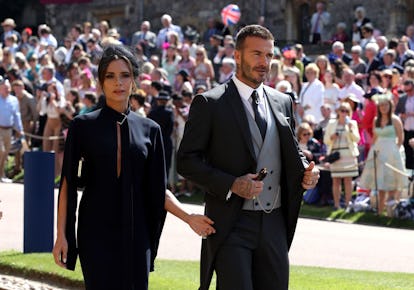 WPA Pool/Getty Images
Victoria Beckham's royal-wedding look may have ruffled a few critics' feathers (she wore the same navy to Prince William and Kate Middleton's wedding in 2011), but one other element of her presence stole the show—her lack of a smile in front of the many, many cameras.
Plenty of people attending the royal wedding went hours without grinning the entire time, but Beckham received the brunt of the criticism. "You're at the Royal Wedding. You look beautiful. Hot husband. Super rich. Why would you not smile?" one Twitter user asked, while another remarked, "Victoria Beckham looks like she's going to a funeral. Does that woman ever smile?" Even Piers Morgan said Beckham was "wearing a stunning scowl" as he live tweeted the event.
Compared with her husband, David Beckham, who was cheesing for what seemed like the entirety of the royal wedding, the Spice Girls singer held an intense gaze for the duration of the event that might indicate she was not feeling particularly chummy on the occasion. But now she would like to remind everyone that the infamous poker face of hers is fixed there for a reason.
In March 2017, Beckham appeared on The Late Late Show with James Corden to explain why she is hardly ever photographed with a smile on her face. People tend to shy away from Posh when they see her in public because they assume she will be "an ice queen," as James Corden puts it. So her scowl is really a preventive measure against any wild fan encounters. During that same Late Late appearance, Beckham also unveiled her homemade T-shirt, which read, "Fashion Stole My Smile."
Beckham took the slogan tees a step further in early 2018, when she stepped out in another DIY look that explained in clear text, "It's A Dark But Happy Place." In February the designer told W, "I'm always poking fun at myself, and this is based on me, behind sunglasses. It's dark, but I'm having fun."
Though it may seem contrary to popular belief, Beckham just loves to have fun, and that lack of a smile at the royal wedding had nothing to do with any unhappiness (she even joked with the Evening Standard that "it was such a relief not to be hugely pregnant at this royal wedding" compared with the last one). Ever the jester, Beckham shared another snap of herself wearing a sweater of her own design with the same slogan on Friday morning, writing, "When you're smiling on the inside ??? As the sweatshirt says!!" in her Instagram caption, before pointing followers to her e-shop, where they can buy the sweater.
What better way to respond to negative press coverage than to merchandise it?
Related: Harper Beckham, 6, Just Gave Victoria and David Beckham the Makeovers of Their Lifetime