David Wojnarowicz Does Not Approve of This Story
The iconoclastic queer New York artist and activist is getting a retrospective at the Whitney Museum. But the outsider's outsider would have preferred to cause a scene on the sidewalk outside.
---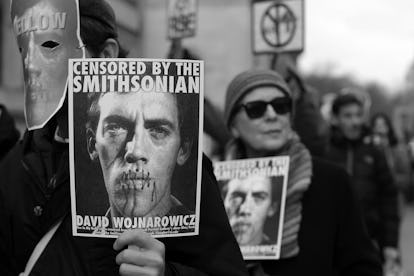 Spencer Platt
Not long after being included in the Whitney Biennial of 1985, David Wojnarowicz—the iconoclastic queer artist, writer, musician, and activist synonymous with the creative efflorescence and subsequent withering of downtown New York in the 1980s and early '90s—bumped into a friend and told her that his scorn for the art world was such that if he were straight and had his druthers he would move to a small town and work in a gas station. Around the same time, when members of the beau monde started to arrive in limousines to his sell-out shows at alt-galleries such as Civilian Warfare, Gracie Mansion, and P.P.O.W., he even stopped painting for a while. A crotchety embodiment of the famous Groucho Marx quip about not wanting to belong to any club that would have him as a member, Wojnarowicz maintained a lifelong disdain for The Man and the corporate hellscape he called the "pre-invented word." One wonders, then, how Wojnarowicz (pronounced voy-nah-ROH-vitch), who died from AIDS-related complications in 1992, at the age of 37, would feel about his current embrace by the art establishment. On July 13, the Whitney Museum of American Art, in New York, is honoring him with David Wojnarowicz: History Keeps Me Awake at Night, the most comprehensive survey of his work to date.
"Wojnarowicz was practically allergic to money," said the Whitney's David Breslin, who curated the exhibition with his colleague David Kiehl. "He was so invested, politically and personally, in this idea of being an outsider, that to have any affirmation of what you were doing—financially, even critically—was a turnoff."
Out of deference to the outsider's outsider, who despite his best efforts has become a darling of art world insiders, Breslin and Kiehl have resisted any attempt to sanitize the work, or to present it too methodically. "We didn't try to conform to what an institution or building like this might call for, nor did we want to look like we were trying to re-create a low-rent East Village setup," Breslin explained during an exclusive preview of the exhibition last week, before adding with a grin, "We basically avoided doing anything he would have killed us for if he was still around."
Far from being ham-fisted or packaged in retroactive good taste, the startling exhibition unfolds in a series of discrete, evocative rooms that lend themselves to a gentle sense of discovery. The first gallery focuses on the seminal "Rimbaud in New York" series that the largely self-taught Wojnarowicz made, at 24, using a borrowed camera to photograph his friends wearing a mask of the poète maudit at Wojnarowicz's stomping grounds, such as Times Square, the Hudson Piers, and the loading docks of the Meatpacking District—then dangerous locales where the young artist, who claimed to have turned tricks from his early teens, routinely cruised for sex.
The Rimbaud gallery dovetails into a riotous salon-style environment displaying a veritable glut of his stenciled works and early paintings, often featuring his signature motifs of a falling man (later cheekily sampled in the opening credits of Mad Men), a burning house, and outlines of the map of America—images of psychic despair and isolation rendered by the cash-strapped artist on found materials such as discarded supermarket posters, chipboard, and trash can lids, as well as on cheap printed materials bought from dollar stores. "He really did things by any means necessary," Breslin explained. "Whatever it took and whatever he had at his disposal."
Elsewhere, the other rooms, mostly arranged chronologically, are dedicated to his dizzyingly heterogeneous oeuvre, which, in addition to painting and photography, variously took in sculpture, film, music, performance, writing, proto-graffiti, even graphic novels. "Not to compartmentalize him too much, because all of the parts coexisted and resist easy categorization," Breslin said, "but the many things he did allow for multiple points of entry."
True to their word, the curators pulled no punches and have included Wojnarowicz's most controversial works and artifacts, which attest to his having been a tireless soldier in the AIDS crisis and culture wars of the time: a collage of Jean Genet, featuring an inset of an ecstatic Jesus shooting up heroin, which incurred the wrath of the American Family Association and led the conservative lobbying group to campaign against a Wojnarowicz exhibition in Congress, and then to Wojnarowicz suing the AFA (he eventually won, but was awarded only a dollar in damages—the check is also on display); the text he wrote for the catalog of a group show, "Postcards From America: X-rays From Hell," in which he describes Cardinal John J. O'Connor of New York as a "fat cannibal from the house of walking swastikas" (a damning depiction that led to the NEA pulling money from the show unless the text was removed from the catalog); an excerpt from Wojnarowicz's unfinished short silent film, Fire in My Belly, which was censored from another show because it contained an 11-second scene of ants crawling over a crucifix.
The fires Wojnarowicz started, noted Breslin, are just one of the many reasons why he continues to hold sway over the culture: "He wasn't afraid to be angry, he didn't mollify that voice." Breslin recalls an anecdote dating back from when the photographer Peter Hujar (a onetime lover of Wojnarowiczs's and his mentor and binary complement) was still alive and they were both sick. Hujar, who dabbled in Buddhism, convinced Wojnarowicz to start meditating in order to help him give up meat, sugar, caffeine, and other nasties. Wojnarowicz lasted four months. "He said he f—ing hated himself by the end of it," Breslin recounted. "Without that anger, death, and violence to think about when he tried to make something beautiful, he couldn't work. That rage and volatility make the work very visceral to this day."
Wojnarowicz's continued resonance is also in no small part due to his never having retreated from the refractory margins. His fearlessness in naming names and advocating for the recognition of the voiceless was no pose. The assholes and injustices that Wojnarowicz battled remain in ample supply. Income inequality, health insurance, the rights of the queer community, artistic censorship, immigrants as bogeymen (an issue about which Wojnarowicz was very sensitive, especially the role of Native Americans within the larger American culture)—these issues still dominate the news. "When I think how this show will look in 2018 compared to how it would have looked in the culture wars of the '80s and '90s, sadly not a lot has changed," Breslin lamented. "I think having his voice present is very much needed. It's kind of depressing, though, that it's still as relevant as it was 30-something years ago."