The Latest Deadpool 2 Trailer Is Marvel's Most Self-Aware One Yet
The followup to Marvel's first R-rated film is back with even more irreverence than its predecessor.
---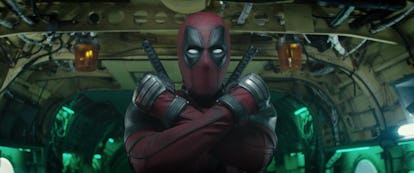 Deadpool 2/YouTube
You'll be able to get your monthly Marvel fix again after the upcoming Avengers sequel when Ryan Reynolds returns to the screen as Wade Wilson, the mercenary turned foulmouthed super-anti-hero known as Deadpool in Deadpool 2 on May 17, 2018.
The indestructible vigilante is back and more action-ready and irreverent than ever; and as the trailer suggests, even though Deadpool 2 comes "from the studio that brought you 27 Dresses and The Devil Wears Prada," it will be just as violent and deserving of that R rating as its predecessor. The trailer features the wisecracking Deadpool beating up baddies to Air Supply's "All Out Of Love," poking fun at gluten, and even tossing in a Sisterhood of the Traveling Pants reference (a not-so-subtle nod to Reynolds's wife, Blake Lively, who gained prominence playing Bridget in the Sisterhood films), making it the most self-aware Marvel movie since, well, the first installment of this franchise.
This time around, Deadpool plans to save the day by forming a "super-duper f–king group" to protect a child he plans to adopt with his fiancée, Vanessa, from Cable, a time-traveling mutant warrior played by Josh Brolin. The criteria for this super group? Well, naturally, Deadpool needs his crew to be "tough, morally flexible, and young enough to carry their own franchise for 10 to 12 years." Together they'll form X-Force, the dirty (and "derivative," as the trailer is quick to point out) version of the X-Men.
And carrying a solo franchise really isn't that far out of the realm of possibility with the X-Force team—Atlanta's Zazie Beetz, who plays Domino, a member of Wade Wilson's super group, has already secured a three-film deal with Fox, sparking rumors that she may end up carrying her own solo film a few years down the line.
Terry Crews and Bill Skarsgård have also joined the cast, and a mysterious photograph of the comedian Rob Delaney, labeled "Peter," appears momentarily in the trailer as well. Brolin will also appear in the upcoming Avengers sequel, Avengers: Infinity War, as Thanos, the villain fighting against the Avengers for custody of the Infinity Stones that could destroy the world, so it may be a while before an Avengers and X-Force crossover film, considering the fact that Brolin is playing two different characters in the Marvel Cinematic Universe at once.
Related: Hollywood, You've Cast Ryan Reynolds as a Talking Pikachu: Is Everything Alright?