Delfina Delettrez's Sources of Inspiration
The designer opens up about her spring 2014 collection.
---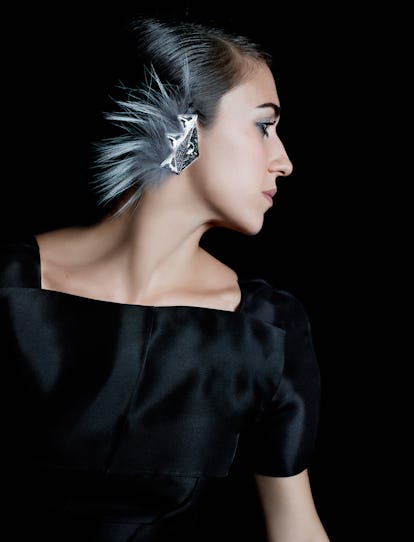 Photographer: Karl Lagerfeld
Wanting to do something other than join the family business, seven years ago Delfina Delettrez Fendi started designing jewelry—charming, surrealist pieces that play with notions of perception. But as a member of the fourth generation in the Fendi matriarchy, her involvement in the fashion house was inevitable. For spring, she created her first jewelry collection for the brand—futuristic-looking rings, bracelets, and ear cuffs—festooned with feathers and fur. "I pictured a woman who was half bird, half human," she explains. Here are a few other things stirring her imagination.
Sephora Fake Eyelashes "I don't wear them a lot—they're not the sort of thing you can pull off every night—but occasionally I like to have small touches of extravagance. Maybe I'll add just a couple in a crazy color. I like to experiment. The best things often arrive from mistakes."
A Fendi Peekaboo Bag—With Eyes "This version of the Peekaboo bag isn't out yet. I actually have the first one. From the outside, it looks like a proper handbag, but then you open it and see a pair of eyes. And behind the interior zipper you discover a red mouth! I love when something isn't evident on first glance. I often wear brooches on the back of my shoulder. I'm always after that element of surprise."
Veruschka, By Franco Rubartelli "There's a very primitive quality to this photograph, and it's filled with such power. That's what I wanted to achieve with the Fendi jewelry collection. With just a ruffle of fur, I tried to convey a sense of strength. I wanted the wearer to feel like an exquisite creature."
Nicolas Jaar, Space is the Only Noise "It's the fourth album from this Chilean-American musician, and every time I listen to it, I discover new sounds. It has very organic, soulful rhythms mixed with futuristic beats. I can dance all night to it."
Hair Stencils and Colored Sprays "They can change your mood on a rainy day, and they give you the ability to change your look, like when an animal changes its skin. I sometimes add a little eye or a lip or a bird to the back of my hair. It makes me feel like a modern-day Elsa Schiaparelli."
Photographs of Grace Jones by Jean-Paul Goude "Grace Jones looks like a woman from another planet, especially in the photos by the great Jean-Paul Goude—all those muscles and angular lines, and the richness of her skin in contrast to the saturated colors around her! You don't know whether she's from the distant past or the far-off future."
Photos: Delfina Delettrez's Sources of Inspiration
Photographer: Karl Lagerfeld
Fendi Peekaboo Bag. Courtesy of Fendi.
Veruschka shot by Franco Rubartelli. Courtesy of Corbis Images.
Fendi ear cuff by Delfina Delettrez. Courtesy of Fendi.
Nicholas Jaar's Space is Only Noise.