Delphine Arnault, Fashion's First Daughter, Is Bringing Fresh Talent to LVMH
Can she one day fill her father Bernard Arnault's impeccable shoes?
---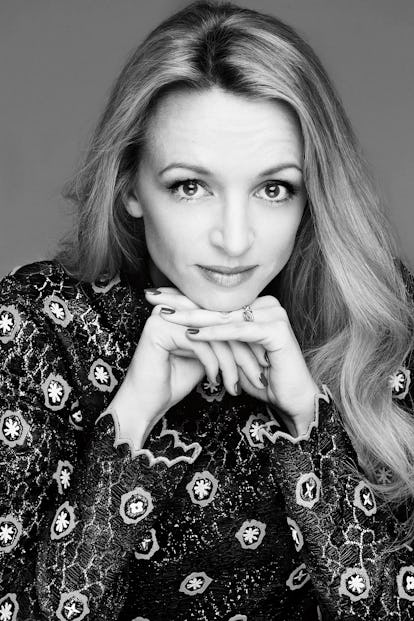 Photographer: Patrick Demarchelier Stylist: Elodie David Touboul
If the Supreme Court were crossed with Project Runway and transported to the elite fashion world, the result might look something like the scene in the atrium of the LVMH headquarters in Paris on this bright morning in May. Shayne Oliver, the creator of the avant-garde street-wear label Hood by Air, is so nervous that he's concerned he might faint, while 10 other up-and-comers—finalists in the competition for the first annual LVMH Prize for Young Fashion Designers—are trying to mask their anxiousness, with varying degrees of success. The tension is understandable, given that each of them is about to be cross-examined by a panel of the world's top fashion designers, all employed by the French luxury conglomerate. Filing in to take their seats at a long Inquisition-style table are Karl Lagerfeld (Fendi), Raf Simons (Dior), Nicolas Ghesquière (Louis Vuitton), Riccardo Tisci (Givenchy), Marc Jacobs (Marc Jacobs), Phoebe Philo (Céline), and Humberto Leon (Kenzo), along with three senior LVMH executives. In a moment, the doors will close and the finalists, having already shown their latest collections to the judges, will get exactly 10 minutes to make a pitch and answer questions; the winner will go home with 300,000 euros, a year's worth of professional coaching from LVMH, and an invaluable dose of public exposure.
The young designers are not the only ones being judged today, however. At the center of the table, in a white Louis Vuitton dress cinched by a black leather belt, is the woman who dreamed up this competition, Delphine Arnault. Plenty of eyes would be on Arnault regardless of her role in the proceedings—partly because she's a strikingly poised blonde who stands several inches taller than most everyone around her, and partly because she's the daughter of Bernard Arnault, the chairman and CEO of LVMH Moët Hennessy Louis Vuitton and the richest man in France. But this event marks a kind of debut for the reserved Delphine, who, like her father, tends to take the spotlight only when necessary. That is, when it's good for business.
"It's hard to know what Delphine is thinking," says Suno codesigner Erin Beatty, another finalist, before adding hastily, "I think that's probably a good quality in a businessperson."
One immediate sign of Arnault's clout is the presence of the seven star designers in the same room today. "When Delphine tells you to go somewhere, you go," Lagerfeld quips. In fact, Arnault and her team spent more than a year coordinating schedules and working out the logistics of this affair. Astonishingly, this is the first time ever that LVMH's top designers have all been together in one room, and some of them hardly know one another. When Philo walks in, Arnault smoothly reintroduces her to Lagerfeld, whom Philo has met only once before. ("We are both former victims of Chloé," Lagerfeld jokes.) As deputies fret about whether the vases of pink flowers are placed properly and whether all the panelists will show up on time—"Nicolas is three minutes away!" says one, looking up from his smartphone—Arnault stands coolly, greeting the nominees and showing no signs of stress.
Since last year, when she was named executive vice president at Louis Vuitton—a post that gives her oversight of women's and men's ready-to-wear, in addition to accessories and jewelry, at LVMH's most valuable brand—Arnault has been gradually raising her public profile, albeit on her own terms. During our interview on the morning after the prize ceremony, at a photo studio in the 7th arrondissement, she is courteous, pleasant, and unfailingly controlled. ("If you start asking about her personal life, she will shut down," an associate had warned me beforehand.) Friends say she's warm and humorous—if not exactly a chatterbox—when she's with her trusted inner circle.
It's a circle that more and more young fashion designers would love to be a part of. With Arnault's help, LVMH has lately been on a major shopping spree, purchasing significant interests in an array of up-and-coming fashion labels, from the British shoe wizard Nicholas Kirkwood and red carpet favorite Maxime Simoens to the Sicilian rising star Marco de Vincenzo and 29-year-old J.W. Anderson, whom the company also put in charge at Loewe. The stakes are high: Luxury fashion and accessories currently generate annual sales of about $300 billion worldwide. LVMH, with its portfolio of more than 60 brands including jewelry and fragrance companies such as Bulgari, Guerlain, and TAG Heuer, has already cornered the largest chunk of the market. But there's ferocious competition to discover the next great designer, and LVMH's archrival, Kering SA, has been busy investing in its own prospects, such as Christopher Kane and Joseph Altuzarra. The new yearly prize for under-40 designers seems like a natural outgrowth of LVMH's never-ending search for fresh blood. "I think it's really important for the group to know the young talents and to help them," Arnault says. "I think it's our responsibility."
Launching an independent fashion label has always been a high-risk endeavor, requiring equal parts creative talent, business know-how, and plain-old chutzpah. Today, with the calendar increasingly full of live-streaming shows that are critiqued instantly by online audiences, the job requires even deeper reserves of stamina—not to mention a flair for churning out retweetable witticisms and Instagram-ready imagery.
Arnault says the prize, with its team of LVMH advisers, can help guide young designers over the hurdles. "It's reassuring to have someone with experience advise you on the decisions you have to make almost every day: Where to produce, at what price, and how to choose your distribution? Should you do shoes and handbags, or perfume? Should you create a second line?"
Those are just a few of the pressing questions for Thomas Tait, the Canadian-born, London-based designer whom the judges pick as the winner after their deliberations in a conference room upstairs. (Runner-up prizes go to Shayne Oliver of Hood by Air and Nikita and Tina Sutradhar, two sisters from Mumbai, India, behind the beguilingly original women's wear label Miuniku.) Tait is teary-eyed when he accepts the prize from Arnault. Even with nine London Fashion Week presentations behind him, he tells me, he faces any number of hindrances, beginning with a cash flow problem: Advance payments from retailers are rarely enough to cover overhead. Then there are endless questions about his barely there website, his e-commerce plans, press relations, etc. "Most young designers, we've been to fashion school or art school. We're not businesspeople by nature, but we run our own businesses," says Tait, whose label has only one other full-time employee. "You realize very quickly that you're spending 90 percent of your time working on the business side of things and only 10 percent of your time designing."
One of Arnault's strengths is said to be her solid rapport with temperamental créateurs, honed during the 12 years she worked at Dior—first with John Galliano and then with Raf Simons—before moving to Vuitton. She is now perceived as LVMH's main talent scout, the driving force behind its recent investments. "I'm not alone—we have a team looking for talent," she says. "It's in the philosophy of the group, and my father has been doing it for over 20 years. Riccardo Tisci started at Givenchy 10 years ago, when he was 29 and had done only two collections for his own line."
Although Arnault maintains that there's no connection between the LVMH prize and the company's recruitment of the next generation of designers, that possibility has, of course, crossed the mind of the candidates. "As amazing as it would be to win, it would be even more amazing to get an investment from LVMH," one of them tells me. Arnault counters, "This prize is about generosity. It's not like we're taking participation in the company. It's really to help young talent grow."
As we speak, Arnault is being made up for the photograph that will accompany this story, and she has to apologize to the makeup artist because she keeps turning away from the mirror to look me in the eye as she answers questions. Her fluent, lightly accented English is a remnant of the three years she spent as a child with her family in suburban New York.
Born in Lille in 1975, Arnault attended the prestigious French business school EDHEC and the London School of Economics before working for two years with the consulting firm McKinsey & Company. In 2001, she joined Dior and eventually became deputy general manager. Even if it wasn't always a given that she'd join LVMH, Arnault says, the family business was a natural fit. "I'm lucky that it's about fashion and perfume and cosmetics," she says. "If my father had owned a tire company, I don't know what I would have done." Along with her younger brother, Antoine, now the CEO of the men's wear label Berluti, she was tested out in several positions at the firm, with Bernard keeping close tabs. "We had to prove a number of things," she says.
The siblings are now seen as the finalists in their own competition, to succeed their 65-year-old father in what is arguably the fashion world's most powerful job. Antoine, gregarious and press-friendly, is a poker whiz who's often photographed with his supermodel partner, Natalia Vodianova. Delphine is more private, methodical, mysterious. Her appointment at Vuitton last year revived chatter that she may have the edge as heir apparent, though her father's ultimate plans are anybody's guess.
Arnault, who considers herself "very French," has plenty of good things to say about Americans—especially their attitudes toward ambition and success. "In the States, entrepreneurs inspire a lot of people and are respected for creating jobs," Arnault notes. "That makes people dream and feel happy for their country." Asked whether that's not the case in France—where cultural sentiment about wealth is far more ambivalent and where the socialist president François Hollande has infuriated business leaders with his tax-the-rich policies—Arnault pauses and laughs. "No comment," she says.
To an observer, there's no doubt that Bernard and Delphine are father and daughter: They have the same aura of self-containment, the same enigmatic half-smile, the same nose. Asked what character traits she shares with Papa, Arnault smiles and says, "I think I'm very discreet, like him." She adds, "It's hard to compare. He's a visionary who transformed the fashion industry. He's very good in finance, and he also has this very creative side. When you show him a collection of handbags, he knows immediately which one is going to sell. And he's also an amazing pianist. I mean, he's exceptional."
Nicolas Ghesquière, whom Delphine championed last year to take over at Vuitton after Marc Jacobs's departure, believes that she has a rare ability to connect business with the creative front. "Delphine really gets into the details—the closures of bags, the finishings, all the particulars of how it's made," Ghesquière says. "I've never had someone from management work so closely with me on those aspects." He sees a similar duality in her focus on young talent—a "headhunter quality" that's rooted in her knowledge that new ideas are essential for business. As for her reserve, Ghesquière attributes it to a desire to observe and analyze—a kind of drama-free "serenity" that's often lacking in the fashion world. "With Delphine there's always reflection," he says. "No decisions are made unless they are really thought through."
Part of Arnault's mandate ____ at Vuitton is to work with Ghesquière and CEO Michael Burke to bring more focus and consistency to the brand. Their pet project for fall is a new set of high-priced limited-edition bags and trunks. Guest designers will use the Louis Vuitton monogram—"the icon of the house," as Arnault calls it—on pieces of their own design. Positioning them as collectibles rather than just It bags, Vuitton has recruited a team that Arnault calls "six geniuses": Lagerfeld, Cindy Sherman, Frank Gehry, Rei Kawakubo, Christian Louboutin, and Marc Newson.
Collecting is something the Arnaults do with great gusto, and in late October, Bernard will open the long-awaited Louis Vuitton Foundation, the cultural center conceived by Gehry as a cloud of glass, which will house a permanent contemporary collection and host curated shows and exhibitions. Delphine, steeped in art since childhood, has been quietly assembling her own, much smaller collection. "I think an art collection is a lot like a diary," she says. "Your taste evolves with time. I try to never sell anything, because it's part of my journey." These days, she's particularly drawn to artists who are part of what she calls Los Angeles's "amazing scene"—Sterling Ruby, Alex Israel, and Thomas Houseago, all of whom she has visited at their studios.
Arnault's main priority while off-duty is her family, about which she prefers to say very little. If you must know: She is divorced from Alessandro Vallarino Gancia, the Italian wine heir she married in 2005; her current partner is Xavier Niel, a self-made entrepreneur who is one of a handful of Frenchmen besides Bernard Arnault on the Forbes billionaires list. The couple have a daughter, Elisa, who is 2. Becoming a mother, Arnault says, has transformed her life; it has also possibly tempered her workaholic instincts. "Now, maybe I spend less time at lunch, so I can come home earlier," she says. "I can do what Americans do: eat at the desk." Like any mother who works full-time (or more), she struggles to fit everything in, but she says, "I can't imagine myself not working. And I hope my daughter will work when she's older."
When Arnault is asked if she can imagine herself running LVMH someday, she responds with a dodge worthy of Hillary Clinton: "I don't know—it's really not on the program," she says. "My father is very young, and I don't think he'll ever stop working."
One person who has no trouble imagining Arnault in charge someday is Pierre-Yves Roussel, the chairman and CEO of LVMH Fashion Group, who also spearheads the recruitment of new designers. Roussel was Arnault's supervisor and mentor during her stint at McKinsey, where he worked before joining LVMH. "Of course I think she could do it," he says. In addition to her natural "left-brain/right-brain" smarts and quiet leadership abilities, Roussel says, "she has put in a lot of work and a lot of time. She's young, but she has the mileage of someone 15 years older, because she's been immersed in the industry since childhood."
Back at the competition, Arnault is preparing to announce the winner to a small crowd of company execs and journalists, when her father walks in. Bernard says a few hellos as he passes the judges, but by the time the presentation starts, he is standing in the back of the room, watching. His expression is benign and inscrutable, just like his daughter's.
Photos: Delphine Arnault, Fashion's First Daughter, Is Bringing Fresh Talent to LVMH
Delphine Arnault, photographed in Paris.

Photographer: Patrick Demarchelier Stylist: Elodie David Touboul
Antoine, Delphine, and Bernard Arnault (from left) at the Dior Haute Couture show, 2011. Photograph by Getty Images.
Arnault and the artist Jean-Michel Othoniel at the FIAC Art Fair, 2013. Photograph by Getty Images.
Marc Newson examining a bag in preparation for his collaboration with Louis Vuitton, 2014. Courtesy of Louis Vuitton/Sophie Carre.
Arnault at Art Basel Miami Beach, 2013. Photograph by Getty Images.
Sketches of the Louis Vuitton Foundation. Courtesy of Associated Press.
The foundation. Courtesy of Gilles Rolle/REA/Redux.
Louis Vuitton CEO Michael Burke, Nicolas Ghesquière, and Arnault (from left) at the Louis Vuitton show, 2014. Photograph by Getty Images.
Karl Lagerfeld (center) and the Arnaults at the Dior Homme show, 2011. Photograph by Getty Images.
Xavier Niel and Arnault at the French Open, 2014. Photograph by Getty Images.
Arnault with the designer Thomas Tait.

Photographer: Patrick Demarchelier Stylist: Elodie David Touboul
Miuniku designers Tina and Nikita Sutradhar (middle, from left), with models wearing their designs at the LVMH Prize competition. © Benoit Peverell.
Tait's winning collection. © Benoit Peverell.
Marc Jacobs judging designs by Hood by Air's Shayne Oliver (left). © Benoit Peverell.
Oliver with models wearing his designs. © Benoit Peverell.
The judges at the LVMH Prize. © Benoit Peverell.
Hair by John Nollet for Hair Room Service by John Nollet at Cheval Blanc hotel. Makeup by Dee Dee for Calliste.