Recovering Demi Lovato Receives Support From Fans, and Famous Friend Selena Gomez
Selena Gomez showed support for Demi Lovato, who recently opened up about her drug addiction and eating disorder in a new documentary, Simply Complicated.
---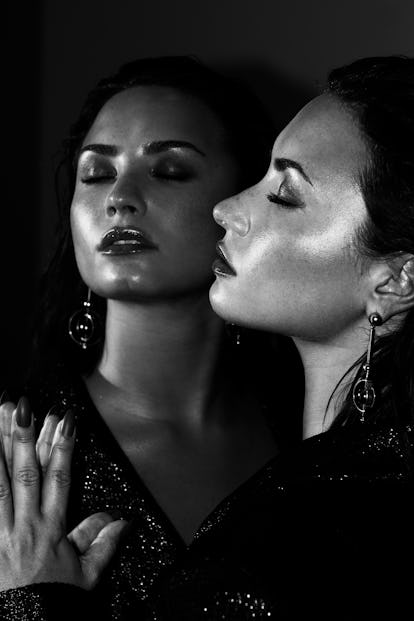 Angelo Kritikos
Demi Lovato's new documentary Simply Complicated presents a tender portrait of the artist as she struggles with an eating disorder and staying sober, while also sharing the recording process of her uninhibited new album, Tell Me You Love Me. Lovato reveals in the opening scene of Simply Complicated that she was anxious to film the documentary because "the last time I did an interview this long I was on cocaine," in reference to her 2012 documentary Demi Lovato: Stay Strong. Stay Strong premiered on MTV, and chronicled the singer's road to recovery after a string of harrowing incidents—including a moment when Lovato assaulted her backup dancer on an airplane for speaking out about her Adderall use—prompted her to go to rehab for drug and alcohol addiction, and almost ended her career.
The former Disney star has been open about her struggles with addiction and self harm in the past, but Simply Complicated is the first time in a long time that Lovato has been this candid. She reveals that she started drinking from an early age, and used cocaine for the first time at 17 with a couple friends, while she was still working on the Disney Channel. "I felt out of control with the coke the first time that I did it," says Lovato in the doc, citing her late father's addiction as a possible stimulus for trying drugs. She promoted a "sober lifestyle" throughout Stay Strong and subsequent press tours, but what viewers and fans would not discover until the release of Simply Complicated was that she was high for the duration of filming her first documentary, and even performed her single "Give Your Heart A Break" on American Idol while hungover in 2012. That performance was the last time she ever drank.
Even though she had a "sober companion" at the time, Lovato admits in her new documentary to using drugs while pretending to be sober, and tells the story of a moment where she thought she might die, saying, "There was one night when I used a bunch of coke and I popped a few Xanax bars, and I began to choke a little bit. My heart started racing, and I thought to myself, 'Oh my god, I might be overdosing right now.'"
Fans have reacted to the documentary, offering their support on social media and beyond, but they aren't the only ones who have reached out. Former childhood best friend and eventual frenemy, Selena Gomez, showed her support by commenting "This was beautiful. I'm so happy for you. You always continue to be bold and real. I wish more people were like you," adding "Love you" on Lovato's Instagram post promoting Simply Complicated.
Lovato replied, "thank you so much, this means the world to me and more. Love you too," so it's probably safe to say that any hint of a once long-standing feud between the two is over as Lovato looks forward to her bright future.
Related: Demi Lovato Opens Up About Being Single and Addressing Her Addictions In Her New Album
See W's most popular videos: