Demi Lovato Receives Support and Love From Ariana Grande and More Celebrities After Apparent Overdose
"She is a light in this world."
---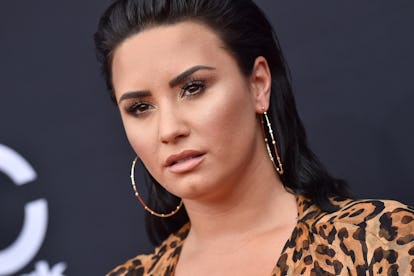 Axelle/Bauer-Griffin/FilmMagic
Earlier this today it was reported that Demi Lovato was in the hospital after an apparent overdose at her home. She was allegedly dosed on-site with Narcan, a drug that reverses an opioid overdose. While Lovato's representative has yet to address this speculation, she is "okay and stable" according to one source who spoke with People and added that heroin was not a factor.
Lovato recently confirmed that she had relapsed, after she hit year six of sobriety. Last month, she opened up about it on a new song, "Sober," singing, "Mama, I'm so sorry I'm not sober anymore / And daddy please forgive me for the drinks spilled on the floor," on the heartbreaking piano ballad. "And I'm sorry for the fans I lost who watched me fall again / I wanna be a role model, but I'm only human."
The pop singer has also talked before about why she's chosen to be so vocal about her journey, once telling Ellen DeGeneres, "I've decided to be open about my story and share everything that I've been through because it helps others. And I've had several people come up to me and say, 'Hey, my dad got sober because you did.' or 'I got sober because you did.' And it just is so meaningful and impactful to me that I wouldn't change it for the world."
It didn't take long after the news to circulate for many of Lovato's fans and celebrity friends to offer their love and support. DeGeneres was one of them, tweeting, "I love @DDLovato so much. It breaks my heart that she is going through this. She is a light in this world, and I am sending my love to her and her family."
Ariana Grande, meanwhile, wrote, "I love [you] @ddlovato."
Lily Allen also shared that Lovato was on her mind, tweeting, "Poor beautiful spirit @ddlovato I hope she's ok, and that she makes a full recovery soon."
Lovato's fellow Disney alum Bella Thorne shared a photo of Lovato on Instagram and wrote, "My beautiful girl you are strong you always have been ❤️❤️"
Take a look at some of the other offerings of love and support below.