Bruce Willis and Demi Moore Reunited for Rumer Willis's 30th Birthday
Though Moore did have to take a few texting breaks.
---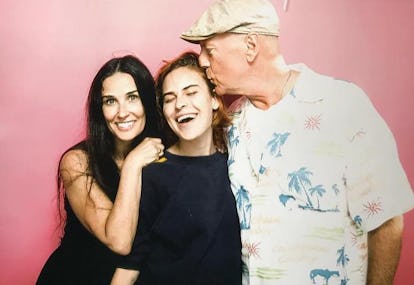 Courtesy of @buuski
It's been 18 years since Demi Moore and Bruce Willis uncoupled, but on Thursday, they reunited for their daughter Rumer Willis's 30th birthday, as younger sister Tallulah Willis shared on her Instagram stories, which People has preserved for posterity.
To celebrate, the family got together for an outdoor lunch that saw Rumer top off her blonde curls with one of the paper crowns that Moore appears to have made and brought along in a Ziploc bag. She blew out a single candle next to a piece of chocolate cake as her family sang "Happy Birthday," adding their own spin ending the song with "We hope you come back… sober!" (Rumer opened up last year about her experience with sobriety on Instagram, three months before Tallulah followed suit.) They all also made time to step inside a photo booth for a series of perfectly cheery-looking family snapshots—including one featuring Willis and Moore.
Moore and Willis met at the premiere of the 1987 film Stakeout, and married just three months later in Las Vegas. Before long, they relocated to Hailey, Idaho (population: 6,000), where they opened a nightclub and a diner and, more importantly, raised both Rumer and Tallulah, as well as their now 27-year-old daughter Scout. They announced their separation after about a decade together, or the span of all three Die Hard films, and divorced in 2000.
Moore, whose followup marriage to Ashton Kutcher ended in divorce, and Willis, who's been married to Emma Heming since 2009, sat on opposite sides of the table with their phones. Moore, as seen in Tallulah's Instagrams, was, quite relateably, texting throughout. She didn't join the four for dinner later that night, which was likely for the best; Scout posted a photo of them all posing later that evening with the caption, "Just before we took this photo my dad said, 'hurry up, I have to fart.'"
Related: What Scout and Tallulah Willis Think About Their Dad's Racy W Shoot