Diane Kruger and Norman Reedus Are Reportedly Expecting a Child
Two models-turned-actors expecting child.
---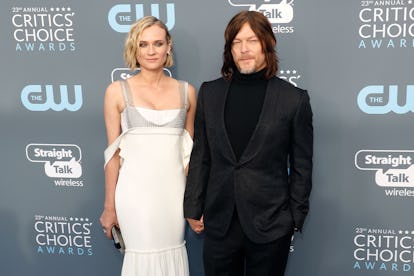 Taylor Hill
Diane Kruger, the former high fashion model turned actress, has been dating Norman Reedus, the former high fashion model turned actor, for a little while now, but they're kept their relationship relatively low-key. Though they originally met on the set of their 2015 film, Sky, the pair made their red carpet debut only earlier this year, at the 2018 Golden Globes. So if the multiple reports that Kruger and Reedus are having their first child together (and her first overall) are true, it may be a while before they officially confirm the news that they're expecting a child, who may one day become a model turned actor in their own right.
Rumors that Kruger was pregnant first emerged during the 2018 Cannes Film Festival, where the actress returned one year after winning the fest's Best Actress award. Certain gossips noted she was favoring billowy gowns and steering clear of any of the complimentary bubbly. Now, along comes Us Weekly to report that its sources have confirmed the news.
Lending some circumstantial credence to the reports is that, per her Instagram, Kruger seems to be thinking about children lately. Just yesterday she wished happy birthday to her goddaughter Luna, and then today posted a couch selfie in which she was "potatoing."
We probably don't have to make much an assumption that this recent bit of Instagram poetry re-posting indicates her relationship with Reedus is as strong as ever.
For his part, Reedus also seems to have youth on the brain. Over the past week he's posted a series of photoshopped manipulations of his own childhood portrait to his equally eclectic feed.
The pair do seem well suited for each other, after all. Before launching himself into an acting career, Reedus spent part of the '90s as a blue-chip model, a career that reached its high point with a Prada campaign. He went on to appear in films including Mimic and The Boondock Saints but is perhaps most famous for his long-running role on The Walking Dead. The German-born Kruger also kicked off her career as a model, walking runways and appearing in campaigns for numerous houses, and notching covers of magazines such as French Vogue along the way. Her acting career began in earnest in the early 2000s. Her big mainstream breakthrough came opposite Nicolas Cage in 2004's National Treasure, but she has sustained her career in numerous foreign and indie films.
Who knows if potential baby Kruger-Reedus will follow in the family's footsteps of switching from fashion to film, but Reedus has one other son, who has already started down the path: Mingus Reedus (whose mom is supermodel Helena Christensen) is now a signed model and a favorite of Raf Simmons at Calvin Klein.
Related: It's About Time We Took Diane Kruger Seriously as an Actresss