Jane Goodall, Karlie Kloss, and the Women of the Diane von Furstenberg Award Are Carrying the Torch For Freedom
These women are using the voices they have, and creating the voices others need.
---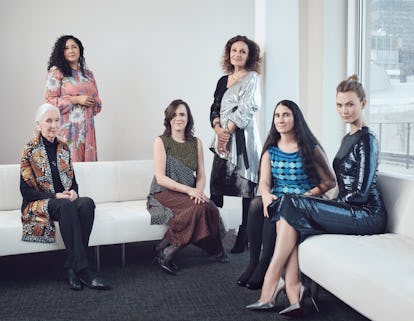 Photograph by Chris Brooks; Sittings editor: Esmé René.
One wouldn't expect Karlie Kloss to take a fashion directive from just anyone—least of all a white-haired octogenarian in kente cloth and sensible footwear. But when the legendary primatologist Jane Goodall asks the 6-foot-2 supermodel to remove her Louboutin spikes before posing next to her for a photograph—out of fear of looking like a munchkin, one can only assume—Kloss kicks them off with utter glee.
"She actually reprimanded me for wearing heels," gushes Kloss a few hours later, as she stands shoeless at the podium accepting a DVF Inspiration Award.
"And I would happily walk barefoot for the rest of my life if Jane Goodall told me to!"
Kloss, it seems, isn't the only one with a Goodall girl crush. Diane von Furstenberg—who established the DVF Awards in 2010 to celebrate women who are making a difference in the world—describes Goodall, the winner of this year's Lifetime Leadership Award, as her "fantasy woman: adventurous, educated, compassionate, curious, determined, and stunningly beautiful—a woman called to dedicate her life to something larger than herself."
Her dedication is, indeed, awe-inspiring. At 83, Goodall—who is widely considered the world's foremost expert on chimpanzees—still travels about 300 days a year, raising awareness about the environmental, social, and animal-rights issues affecting her beloved primates. Roots & Shoots, the humanitarian youth program she started in 1991, now connects more than 150,000 students in nearly 100 countries. And perhaps most impressive of all, given the sorry state of the planet she's devoted her life to preserving, she remains an optimist. "Although there may be doom and gloom, nevertheless, there are amazing projects, amazing people," she says. "And my job is to pull out these nuggets of hope, of which there are way more than people think."
That's a view she shares with this year's other DVF Award winners. Baljeet Sandhu is the founding director of the Migrant & Refugee Children's Legal Unit, which works to protect the rights of kids in the U.K. who've been displaced by war, violence, or trafficking. These days, in addition to dealing with the migrant crisis, she's facing the fallout from Brexit, which could put thousands of European children who've lived their entire lives in the U.K. at risk of deportation. "Suffice it to say, it's been a busy few years," says Sandhu, a native of Nottingham, England, whose breathtakingly rapid-fire style of speech is apropos of her mile-long to-do list.
Louise Dubé also has her work cut out for her. As the executive director of iCivics—an online-gaming site founded in 2009 by Supreme Court Justice Sandra Day O'Connor to teach students from grades four through 12 how our government actually works—she's seen a huge increase in traffic recently. "We had 3 million kids come and play our games in November alone," she says. "We want them to learn that if you don't like something the government is doing, you can actually do something about it. The digital world gives everyone, including kids, more power."
That's true even in Cuba, where Yoani Sánchez—a blogger and journalist who has been beaten, kidnapped, and arrested for her efforts to establish a free press in the Communist country—launched Cuba's first independent digital news outlet, 14ymedio, in 2014.
Kloss, meanwhile, is doing her best to ensure that young women have equal access to that digital power. The 24-year-old supermodel/math- and-science wiz—apparently, she won the genetic lottery twice—first took a class in coding "just to figure out what the heck code was," she says. Soon she was funding scholarships. This summer, her organization, Kode with Klossy, will run 15 free summer camps around the country.
"I got really hooked and wanted to share what I was learning with other girls," says Kloss, whose commitment to do-gooding goes back to 2012, when she teamed up with Milk Bar to sell vegan, gluten-free (and surprisingly delicious) cookies for charity. To date, the treats have funded more than one million meals for those in need.
The way von Furstenberg sees it, Kloss's efforts are commendable, but also expected. "When you are successful, the first thing that happens is that you can pay your bills, and the second is that you have a voice," she says. "And when you have a voice, it's important to use it for people who have no voice."
She's been doing that herself through the Diller–von Furstenberg Family Foundation, which funds the awards' $50,000 grants and supports a host of other nonprofits. She's also currently chairing the fundraising campaign for a new Statue of Liberty museum—a project she became involved with even before President Trump's proposed immigration bans. Her inspiration was her mother, who survived 13 months at Auschwitz and other concentration camps.
"She always told me, 'God saved me so that I could give you life. And in giving you life, I was given my life back. You are my torch of freedom,' " the designer says. "That torch of freedom is really something I have carried for my entire life."
See W's videos of inspiring women: