Why Makeup Artist Dick Page Is Bored of the Instagram Beauty Look: "Perfection Is Poisonous"
"Looking like a version of everyone else is a worry."
---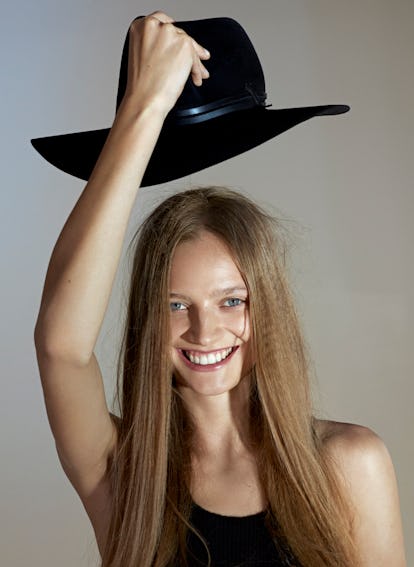 Dick Page is one of best (and therefore one of the most-interviewed) makeup artists in the business, so you may already know that he worked in an English slaughterhouse in his teens, and got his start in London in 1987, working with a very young Kate Moss and the photographer Corinne Day. And that he catapulted to fashion fame when he used vaseline on models' eyelids in a seminal 1993 Calvin Klein show.
You may also know from his popular Instagram, @dickpageface, that he's a serious foodie, and almost as adept at whipping up fab meals in his red-lacquered kitchen (the man loves red–all shades) as he is at applying eye shadow on supermodels. Despite his social media power, Page is pretty bored by makeup on Instagram. "Those videos are all the same: the same highlighter, same contouring, same bat wings; add a donkey lash, dip the chin, tilt the face," he says. "By the time people have swiped left, swiped right, or clicked, no one cares."
So what does he like? The Handmaid's Tale, shopping for food, and colorful makeup. While on vacation in South Carolina, we caught up with the makeup artist and asked him even more questions.
What kind of makeup are you most feeling lately?
Well, we're always a little out of step in the business. Thinking about the season ahead, winter in summer and vice-versa. But I'm having a protracted love affair with color at the moment. I just really enjoy playing with variations in tone and shade. I'm hardly thinking about structure at all, although I guess that's an automatic aspect of applying a face.
What is your very favorite product of the moment? Why?
I love the Ben Nye Color Wheels. I use them to mix and match and play and create new shades and variations on existing ones. Lots of fun!
How do you prep skin before applying makeup?
I try to keep my skin prep as simple as possible for the [fashion] shows, and for any other work, really. A little lip balm if needed (which it always is!) and a light moisturizer. I'm still using Shiseido Ibuki until I run out of it!
We spoke a bit about the pitfalls of social-media makeup? What are some things to avoid when it comes to selfies and posts?
Don't do 'mirror' face. A self-serious selfie is often grim. Looking like a version of everyone else is a worry. Flawlessness is a trap. Perfection is poisonous. And everyone looks better with a little color.
Are you a minimalist or maximalist when it comes to evening maquillage?
Whatever the hell you like! I'm partial to a clean face and a bold lip, a smear of day-glo paint, a cloud of colorful powder, a slick of inky liner, or a full-drama gothic drag beat. They're all fun.
Eye or lip? Or is it okay to have both?
Always is, always has been. I've often said that until the day your eyes go to a movie while your mouth goes to a restaurant, your face should generally be considered as a complete work.
Tell me about your love of theater and how it translates into your work?
I do love theater. It can be an expensive pursuit, particularly if you're after good seats in New York! But I love it. As far as my professional makeup interest goes, all makeup enhances the face, whether it's about beautifying or disguising or creating character. I like animated, expressive, mobile faces so a good live performance is really thrilling to me. I don't know that it affects my usual fashion-orientated work directly, but I've enjoyed creating character-makeup looks for the theater very much.
What is the best makeup you've seen in recent performances?
The National Theatre Live broadcast of Angels in America was amazing on so many levels, but the angel herself/itself was really beautifully realized: A bit scary, pathetic and shabby but still compelling and powerful in a way. Of course, Amanda Lawrence's performance and the staging has a lot to do with it, too.
How about in TV and film?
The Crown, The Handmaid's Tale, Taboo and Legion had some good work in them.
You are known for your love of good food, and skill as a cook. What have you been whipping up lately?
I've been on holiday in South Carolina, so my low-country dishes are getting a good airing. Playing with variations on shrimp and grits is tasty fun and I love the "pot likker" styles of greens and dried peas and beans with country ham or classic Southern rice dishes like a good pilau/perloo.
When you are not doing makeup, what do you do for fun?
Read, hang out with the husband, walk the dogs, draw/paint, listen to music, do sex, cook (and I'm including the food shopping part, which I LOVE!), ride my bike…
Why is makeup powerful?
Because it's an immediate, intimate way of expressing yourself visually. It's much more versatile than clothes and more changeable than hair. It can be simple to the point of non-existence or extraordinarily complicated. I love that it's a temporary state both of being and of mind. I embrace the superficiality of makeup and celebrate its short life span.
So if you weren't a makeup artist, what would you be doing?
I haven't a clue!
Related: [Star Makeup Artist Dick Page Has Sass for Days](https://www.wmagazine.com/story/makeup-by-dick-page)
Sofia Coppola in Dick Page's SoHo studio.

Photographer: Dick Page and James Gibbs
Dick Page and Sofia Coppola, W magazine, 2014.
Instead of using concealer to hide dark circles, create a distraction by smudging Shiseido Accentuating Cream Eyeliner in Brown along the lower lash line with your pinkie. "The worst thing you can do is make a big blank with concealer between your lip and your eye," Page says.

Photographer: Dick Page and James Gibbs
Photographer: Dick Page and James Gibbs
Comb brow hairs down with a spoolie brush, then, using a firm brow brush, apply Shiseido Eyebrow Styling Compact in Medium Brown along the tops of the brows, making a few strokes at the outer edges, to look "a little more glamorous." Comb hairs back up.

Photographer: Dick Page and James Gibbs
Photographer: Dick Page and James Gibbs
Photographer: Dick Page and James Gibbs
Watch: How to Get the No Makeup Makeup Look