Diet Prada and Dolce & Gabbana's Feud Now Includes a $481 Designer Rip-Off of a Diet Prada T-Shirt
The luxury fashion house is now selling a $481 rip-off of a Diet Prada t-shirt.
---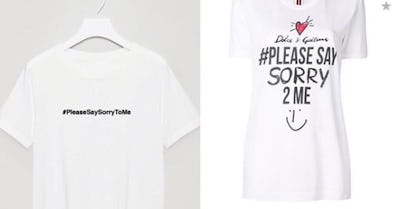 instagram.com/dietprada/farfetch
Diet Prada, an Instagram watchdog account known for policing plagiarists, has now been copied. (If you need to reread that mouthful, go ahead.) In a twist no one saw coming, the once-anonymous account — led by Tony Liu and Lindsey Schuyler — has had their own merchandise parodied and sold for 12 times as much. It all started with a feud between Diet Prada and Dolce & Gabbana.
Back in October, Diet Prada posted a comparison of Gucci and Dolce & Gabbana's in-store displays, writing, "D&G GHOST! @dolcegabbana takes a stab at the high-low aesthetics of @troubleandrew and @gucci 's GUCCI GHOST collab." Gabbana, who has a pattern of leaving controversial Instagram comments, didn't let that sit, and dived into Diet Prada's replies.
"Darling, I make this job from 32 years, we made all this world in the '90," he commented, as Harper's Bazaar pointed out, "So, if you are ignorant is much better for you don't say anything about this image… Gucci copy us in many different way!!! This is one of… please say sorry to me!!"
The phrase "Please say sorry to me" stuck, and Diet Prada ended up profiting from it, creating their own merchandise emblazoned with the plea. But, not before writing, "@stefanogabbana I think your visual display team should say sorry to you!"
This exchange went on, with Gabbana adding, "@diet_prada dear you need to take fashion lesson in some school before to speak … information is the top in fashion history,'" to which Diet Prada replied, "@stefanogabbana we have…there wasn't much written about DG unfortunately."
Gabbana, however, wasn't content to let the quips end there. Instead, the designer has released his own take on Diet Prada's trolling t-shirt for $481, which features the brand's namesake above #Please Say Sorry to Me :-)." (No one bothered to tell D&G that hashtags only work when there isn't space in between the words.)
At least for now, Diet Prada have the last word. Liu and Schuyler shared both t-shirts on Instagram, writing, "When ur merch gets knocked off by @dolceandgabbana for 12x the price lol. #pleasesaysorrytous."