Stefano Gabbana Calls Selena Gomez Ugly on Instagram, Disses Kate Moss
Tommy Dorfman told Gabbana to "please take many seats."
---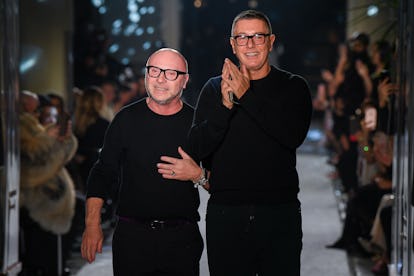 Venturelli
Stefano Gabbana has long taken delight in pushing up against what he perceives as PC culture, but now the designer is just getting catty. Kate Moss and Selena Gomez, respective style icons of their generations, were both on the receiving end of what some are calling "shade." However, shade is at least subtle and clever. Gabbana, one half of Dolce & Gabbana, just went in full tilt calling Gomez "ugly," and then just leaving a big old "no" under a recent photo of Moss in a little black dress.
The dig at Moss came first. @TheCatWalkItalia, an Instagram account with more 1.4 million followers that specializes in posting photos of celebrities and asking its followers, basically, "??or???," posted two photos of Moss in a Saint Laurent black dress (a style moment that Vogue recently declared "proves why 40 is the new 20"). Gabbana simply replied, "no," a short missive that caused quakes in the fashion community. Moss has basically been fashion's reigning prom queen for decades, and she rarely if ever receives criticism from within the industry.
It appears the relationship between Moss and Dolce & Gabbana is not quite as strong. She appeared in a campaign for D&G back in the early days of her career and walked a few runways for the brand, but she doesn't seem to have the same tight-knit bond with the brand or its designers as she does with so many others in fashion. Gabbana himself was snapped back in 2009 wearing a T-shirt with a nude image of Moss printed on it, but it appears his admiration has waned.
There are plenty of people calling Gabbana out in the comments section, but it seems the incident didn't make him any less shy about sharing his unfiltered opinions on celebrity's looks on IG, because just yesterday he was back at it again. This time, he took on the most followed person on the platform.
The incident once again came in the comment section of @TheCatwalkItalia under a collage of photos of Gomez in red dresses. The account only asked followers for their favorite scarlet Selena look, but Gabbana, who, mind you, is a 55-year-old man, chose his own reply: "She's so ugly!!!"
Clearly, Gomez's 138 million–plus followers disagree, and Gabbana found himself on the receiving end of the wraith of so many Gomez-ites (oh, wait, apparently they're called Selenators).
"Enjoy the hate that you deserve bc me and the other Selena fans don't play around," wrote one user. "Why do you have to be such a rude hearted person. Have fun."
"They told me that some stupid man who calls his self a designer said selena is ugly," added another. "I went to see his photo and I had a heart attack… he was so scary."
Eventually, another boldfaced name jumped into the comments to defend Selena: Tommy Dorfman, an actor on the Gomez-produced show 13 Reasons Why who has become a front-row favorite of several other labels in his own right.
"[Y]ou're tired and over. your homophobic, misogynistic, body-shaming existence will not thrive in 2018. it is no longer tolerable or chic. please take many seats," blasted Dorfman.
Dorman's is referring back to so many of Gabbana's other controversial statements.
The designer has blasted gay families (despite being gay himself, though he seems to hate the word) and children born through IVF. He has also been outspoken in his support of American First Lady Melania Trump, and has tried to dismiss any criticism by selling a T-shirt that read "#BoycottD&G."
Even his attacks on celebrities is nothing new. Last year he criticized Lady Gaga's exposed midsection during the Super Bowl halftime show (though he did apologize). He more recently left several disapproving emojis under a photograph of Victoria Beckham. Seems like he really is going after every celebrity style icon, though, so far, the Olsen twins remain un-shaded.
Yet he's remained undeterred in his habit of saying (or typing) what he wants.
"For me, political correctness is fake, because you don't have the power to explain what you really think," Gabbana told British Vogue last year. "With respect to everyone, I am not Mussolini. I am not God. It's just my opinion. But I love when people say exactly what they think. If you don't agree with another person, you still have the freedom to say what you think."
Interestingly, this all comes at a time when Dolce & Gabbana as a brand is trying its hardest to woo millennial consumers, especially by inviting young influencers, YouTube stars, and children of celebrities to walk its shows (this did backfire in one case when upcoming R&B singer Raury protested the brand at its own show). Going after the queen of the millennials, Selena Gomez, does not read like a great strategy.
If perhaps you're wondering how Gabbana gets away with all of this, well, he and business and designer partner Domenico Dolce still control their own brand. It's not a part of a conglomerate, as so many other labels are, so there's no one in a corner office to demand he perhaps think about deleting Instagram for a while. Much of the brand's business lately is also said to be in emerging luxury economies like Asia, the Middle East, and Russia, places where news of an IG feud with Gomez may not carry quite as much weight or repercussions.
Related: Tommy Dorfman on the 13 Reasons Why Phenomenon and Getting a Tattoo with Selena Gomez