Hard Candy Founder Dineh Mohajer Has One Beauty Regret
Catching up with the Hard Candy founder who went from biochemistry to concocting cosmetics.
---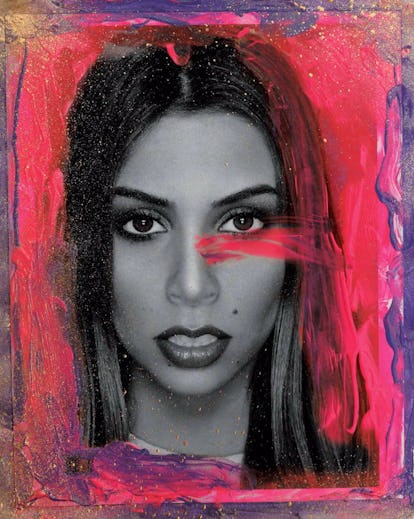 When Dineh Mohajer launched Hard Candy in 1995, her line of pastel-shaded nail polishes became an overnight success. Women of all ages fell for the playful shades—including Alicia Silverstone, whose nails, adorned with the pale blue "Sky" caught the eye of David Letterman when she appeared on his show. Mohajer sold the brand to LVMH in 1999, but re-entered the beauty biz in 2014 with Smith + Cult, which could be described as an older sister to Hard Candy. Having begun with polishes, Smith + Cult recently added lip glosses and is expanding to eye shadows, liners and mascara as well as full-on matte lip color this Fall. Here, Mohajer talks about how she went from pre-med to the Barney's counter and spilled her opinions on various beauty topics as well as what's in her own makeup bag.
How old were you when you started Hard Candy? 21.
How old were you when you knew you wanted to create a nail polish line? Never. I was a biochemistry major at USC. I was dead set on becoming a plastic surgeon.
Wow! That's quite a leap from nail polish. Ok, let's go back to when you were, say, ten. What did you want to be back then? …Eleven…? I mean, I loved fashion, but I don't think I realized that you could do something in fashion for a living. I grew up in Michigan, which is not exactly Seventh Avenue. All the dads in my family were physicians. Iranian physicians, so that's what we all grew up thinking we'd become. I didn't have any concept that you could work in fashion. I remember the first time I came to New York. I was like, "Oh my god, where am I?"
So, when did the pre-med decision get put aside? Well, organic chemistry did me in. It doesn't matter where you go to college, that class is HARD. It's like the weed-out class. I was surrounded by tutors. My summers would consist of studying for the MCATS six hours a day AND doing these DNA extractions in a basement of a pathology department in a hospital. See, you need to get your name on a published paper to get into med school. I think it was a backlash to all of that.
But why nail polish? Well, I was at USC, and I saw this world of supermodels in LA and I thought, "I have to do something to stand out." I thought I had to create something to be cool. So in the corner of a nail salon, they had a bunch of bright, used up, nasty crusty colors. I mixed them with Essie white and I got all those pastels. It wasn't brain surgery.
But no one else had done it. No one else had done it, but I did it because I had this weird underlying motivation! I wore it and five people accosted me. And my sister said, "You should sell it." So we sat down and came up with names together. We liked Hard Candy the best. That was in March. The line launched in May. By the time August came around, it was time to register for classes and the brand was in full distribution.
Man. That is fast. Meanwhile, it was time to register for the next semester at USC. I had three more classes in upper divisions to go, but I never finished. I'd never be able to go back and do them now. How could I do an upper division science class now?
You're saying this to me presuming I know what "upper division science" means. But I'll take a stab and guess that it's REALLY HARD. REALLY HARD.
But you know what? No one cares. I know, but some people are like, "You should go back and finish."
That's the older generation saying it. Yes. That's my dad saying it.
Please. I've got two words for you: Bill Gates. Those are the hardest classes. I'd have to take calculus now. Whatever.
The only calculus I'm familiar with is the tartar on my teeth. Hey, I've got an idea: Why don't you name a shade "Calculus" and be done with it? Ok, time for the beauty questions! What's your first beauty memory? My mom had all this makeup. Like these nine thousand eye shadows that they'd sell in those huge palettes at Bonwit Teller. And she had this really lame loose powder called Starlight. I'd just put all this makeup all over my face. But I've got another one. When we were selling our house in Michigan, the prospective buyers were walking through the house. I remember I had to sit on my bed because I had all these little dots of red nail polish all over my bedspread. I thought they weren't going to buy the house if they saw my bedspread, so I sat on it to cover up the dots to hide it.
How old were you? Maybe 5 or 6.
That is pretty adorable. What was your worst beauty blunder? You're looking at it.
You're silly. Tell me. For real? A botched nose job. It was big and huge and it had a hook. In retrospect, I wish I'd kept my original nose.
Coulda, shoulda, woulda. ..What beauty products are in your purse? Tampons.
That's not really a beauty product. [Pulls takes a small cosmetics bag out of her purse] Serge Lutens lip pencil, By Terry pressed powder, Kevyn Aucoin The Precision Brow Pencil in Dark Brunette, Cle de Peau concealer, SkinMedica Total Defense + Repair Broad Spectrum Sunscreen, Kuumba Persian Garden, Visine, Smith + Cult The Tainted in Linger Sigh.
What's your skin care routine? SkinMedica TNS Essential Serum, Topix Glycolic 10%, SkinMedica Dermal Repair Cream. At night, I use .1% Retin A.
And your hair? Oribe's Gold Lust line.
What beauty professional can you not live without? I've got two: Chris McMillan and Tracy Cunningham.
What beauty trend do you not get? I have a problem with airbrushed social media narcissism. What's yours?
That little wing of black liquid eyeliner. All the kids do it, and I can't stand it. And I agree, I'm seeing more and more of that airbrushed look. I was at a work event the other day and this blogger, who was in her mid-twenties sat near me and her skin had no pores! She looked like an avatar! How did she not have pores?
No, she was just wearing SO MUCH PRODUCT. It's the weirdest thing when they do that. Don't they feel dumb with that much makeup on?
Oh my god, no. They feel empowered. But it looks so weird! Don't you agree?
Yes, but that's when I feel like we're starting to sound like the older generation… Is this a symptom of being older or are we just thinking it looks gross?
Good point__. Finally, you've created two hugely successful beauty brands. What's the difference between Hard Candy and Smith + Cult?__ Hard Candy was about a pivotal chapter from childhood. Smith + Cult is a diary of a beauty junkie, chronicling a lifetime of beauty experiences.
Well, keep on chronicling, lady.
Watch W's most popular videos here:
Photos: Hard Candy Founder Dineh Mohajer Has One Beauty Regret
Smith + Cult, Mohajer's most recent cosmetics line.
Hard Candy, Mohajer's first cosmetics venture.
Dineh Mohajer and musician Mike Gryciuk in Beverly Hills, California, July 2011. Photo by Getty Images.