Donald Glover Reveals He Has a New Baby and a New Name For His TV Show
His partner Michelle recently gave birth.
---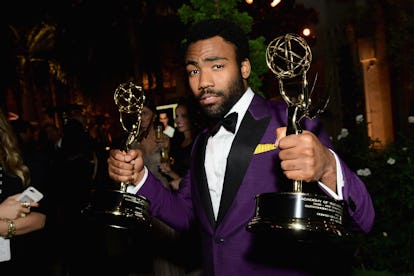 Emma McIntyre
Few people in Hollywood are hotter right now than Donald Glover. He won two Emmys this year, and is nominated for five Grammys for his musical project Childish Gambino, and yet he's managed to keep his personal life pretty personal. Though, it's not because he necessarily refuses to talk about it, either. In fact, the only reason we know he recently welcomed his second child is because he told the world today at an FX event, and the only reason the world even knew he was expecting a second son in the first place was because he mentioned it in his Emmys acceptance speech for his Best Actor in a Comedy trophy.
"I want to thank my baby, my son, for just being the joy in my life. I want to thank my unborn son—we're listening to Stevie [Wonder] tonight," he said back in September at the awards show.
Likewise, he confirmed the "unborn son" was now his "born son" in a similarly casual manner during an FX event for the Television Critics Association when he was asked about how his girlfriend was doing.
"She's great. She's good. Baby's born, so she's happier now," he said.
And that is mostly all we know about the latest development. The mother is his partner who the world knows only as "Michelle." No one in the press seems to know her last name, and her first name wasn't even public knowledge until she was mentioned by name in his Emmy's speech. The pair's first son was born sometime around October 2016, but Glover didn't reveal the child's name until a June 2017 performance at the Governors Ball festival. "This song is dedicated to everybody in this crowd and my young son, Legend," he said before playing his aptly named song "Baby Boy."
The young family has been photographed on the street before, but other than that that's all we seem to know about Glover's domestic situation. Perhaps he'll reveal more if he gets the chance to make a Grammy acceptance speech later this month.
While we may not know the name of his newest child, we do know that his television show Atlanta will have a slightly new name. Season two will officially be known as Atlanta Robbin' Season. The show will return under the new title on Thursday, March 1 on FX. Of course that's not the only big thing to expect out of Glover in 2018. He'll also, no big deal, play Lando Calrissian in Solo: A Star Wars series.
Related: Why Atlanta Is the Most Significant, Singular Show on TV