Donald Trump, Still Fixated with Hillary Clinton's Emails, Suggests Huma Abedin Belongs in Jail
"Jail! Deep State Justice Dept must finally act?"
---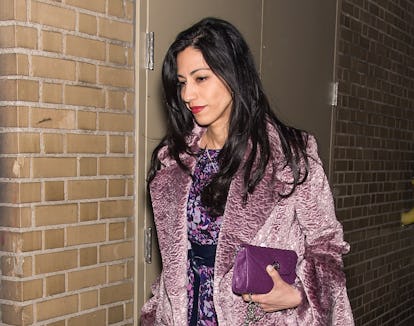 Gilbert Carrasquillo
New year, same Donald Trump.
Though the president spent much of his first year in office obsessed with the perceived misdeeds and failings of his former opponent "Crooked" Hillary Clinton, he seems to still have fresh material. In fact, Trump started the first official work day of 2018 by taking to Twitter and seeming to suggest that Huma Abedin, Clinton's longtime righthand woman and Deputy Chief of Staff, belongs in jail.
"Crooked Hillary Clinton's top aid, Huma Abedin, has been accused of disregarding basic security protocols," Trump wrote on Twitter. "She put Classified Passwords into the hands of foreign agents. Remember sailors pictures on submarine? Jail! Deep State Justice Dept must finally act? Also on Comey & others."
He doesn't directly call for Abedin's imprisonment, but definitely suggests it by bringing up the results of a completely unrelated and completely random story.
Abedin, of course, filed for divorce from Anthony Weiner in 2017, on the same day the Snapchat-happy scuzz plead guilty to transferring obscene photos to a minor, and continues to face the repercussions of Weiner's misdeeds. In fact, Trump was reacting to news that resulted from the FBI investigation into Weiner. The bureau recently released e-mails found on Weiner's laptop that Abedin had sent to herself.
The big revelation: Abedin forwarded e-mails from her official State Department e-mail address to her personal Yahoo! Mail address back in 2009, some of which included sensitive material, and one of which included official login passwords.
"She would use these accounts if her (State) account was down or if she needed to print an email or document. Abedin further explained that it was difficult to print from the DoS system so she routinely forwarded emails to her non-DoS accounts so she could more easily print," the FBI report says.
On one hand, yes, government officials should be particularly careful with sensitive material (Yahoo! Mail has a history of being compromised), on the other, does someone really belong in jail because they were having problems with the office printer? It's not like Abedin had drinks in a bar in London and bragged about possible Russian collusion to a Australian diplomat, or anything like that, after all.
Trump likened Abedin's actions to those of US Navy sailor Kristian Saucier, who plead guilty to charges stemming from taking photos inside classified areas of a nuclear submarine. He was sentenced to a year in prison, which he finished serving last September.
Trump and his associates have brought up Saucier's case before to ding Clinton, most notable during the Vice Presidential debate when Mike Pence claimed that Clinton should have received the same treatment as Saucier for all that e-mail controversy. His mother has appeared on Fox News to say the same as well.
In any event, we are now more than 2 years removed from when Bernie Sanders declared, "I'm sick and tired of hearing about [Hillary Clinton's] damn e-mails," over a year away the election, and quickly closing in on the end of Trump's first year in office, and yet somehow not only are we still talking about Clinton's damn e-mails but the president is talking about Huma's damn e-mails now, too.
Related: Huma Abedin Wore an All-Black Outfit to Donald Trump's Inauguration