Donald Trump Asked Photographers to Make Him and Kim Jong-un Look "Thin and Perfect" During Their Historic Summit
He also made time to praise North Korea's "great beaches" amid talks about nuclear disaster.
---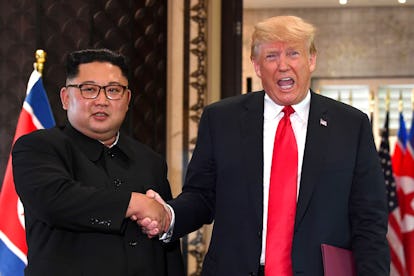 Saul Loeb/AFP/Getty Images
With everything that went down during Donald Trump and Kim Jong-un's historic summit in Singapore on Tuesday, including news that North Korea could possibly begin dismantling its nuclear arsenal "very quickly," one thing—quite rightfully—got lost in the mix.
The first-ever meeting between a sitting American president and a North Korean leader was, of course, something to be documented, which it primarily was during the pair's initial handshake. That, however, didn't seem to be enough to sate an overeager Trump's photo-op cravings. At one point, he seemingly forgot the severity of the situation, asking a question that would be entirely understandable, and even relatable, during pretty much any other meal or meet-up—just not one that could determine the possibility of future nuclear disasters.
As captured in a behind-the-scenes video posted by NowThis, at one point, when the press joined him, Kim, and their interpreters, Trump either forgot himself or made a bold attempt to lighten the mood, asking the room at large, "Getting a good picture, everybody? So we look nice and handsome and thin and perfect?"
To be fair, the pair definitely did come across as bots in some of their handshake snapshots—not that that excuses Trump's levity. One off-camera voice managed to disguise his surprise at Trump's question, offering an encouraging (and not exactly truthful) response: "Beautiful." But even Kim, who isn't confirmed to be fluent in English, seemed to pick up on the inappropriateness of Trump's comment:
As it turned out, that wouldn't be the end of Trump's casual comments regarding the historical meeting. During a press conference, the former real estate tycoon also took a moment to, um, praise North Korea's "great beaches," which appear to have been one of his main takeaways after observing the country's military exercises.
"You see that whenever they're exploding their cannons into the ocean. I said, 'Boy, look at that view. Wouldn't that make a great condo?'" Trump said.
Indeed, aside from preventing nuclear disaster, it's not entirely unlikely that Trump has had another motivation when it came to meeting with Kim: evaluating the possibility of expanding his empire of Trump Hotels. "You could have the best hotels in the world right there," he continued. "Think of it from a real estate perspective. You have South Korea, you have China, and they own the land in the middle. How bad is that, right? It's great." (So great!!)
Related: Donald Trump Takes It Upon Himself to Tell France's First Lady Brigitte Macron She's "In Such Good Shape"