The Downton Abbey Movie Cast Shared First Photos From Set
Thanks to Michelle Dockery.
---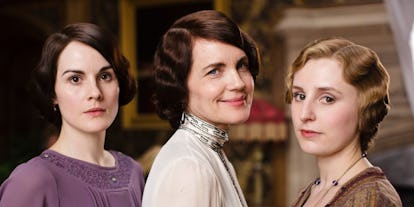 PBS/Everett Collection
It's been three years since the last episode of Downton Abbey aired, but the show is poised for a resurgence. Next year not only brings an American counterpart to the series, dubbed The Gilded Age and being penned by the Downton Abbey creator and writer Julian Fellowes, it also may bring the movie version of the original show. The film was first announced in May of 2017, but today brings the first look at it.
We have the actress Michelle Dockery to thank for that, as she shared a photo from the set on her Instagram. "And…we're off ?@downtonabbey_official," she wrote in the caption of the black and white picture, which doesn't give much away. The series' official Instagram account also shared the photo, adding, "Shooting begins today for the #DowntonAbbey movie. Excited? Just a little. Photo courtesy of Lady Mary herself, @theladydockers."
Fellowes no doubt has a busy year ahead of him, as the film's producer Gareth Neame confirmed in a statement announcing the project in July. "When the television series drew to a close, it was our dream to bring the millions of global fans a movie, and now, after getting many stars aligned, we are shortly to go into production," he said. "Julian's script charms, thrills, and entertains, and in Brian Percival's hands we aim to deliver everything that one would hope for as Downton comes to the big screen."
Not much is known about the plot at the moment, other than the fact that Michelle Dockery, Hugh Bonneville, Maggie Smith, and Joanne Froggatt will all be a part of it. One person who won't? Lily James. The 29-year-old actress whose breakout role came in Downton Abbey revealed to People that she will be sitting out the movie. "My character Rose moved off to New York, so it would be farfetched to bring her back. I would have loved to have come back for a scene, but for a movie it can't be like a Christmas special and it needs to be a focused storyline," she said. "There was no space for Rose. But I'm so excited for it—I'm going to be front row." Hopefully it won't be too much longer until that day comes.
Related: Damien Hirst Meets Downton Abbey: Inside the Artist's New Polka-Dot, 18th-Century Takeover