Downton Abbey's American Version The Gilded Age Debuts on NBC in 2019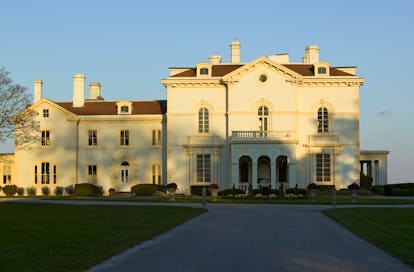 Visions of America/UIG via Getty Images
If you're in need of a new series to binge watch, 2019 is already looking promising. That's because today brings news that next year Downton Abbey's long-awaited American version dubbed The Gilded Age will finally arrive. While the show was first announced back in 2012, a year after Downton Abbey's series finale aired, it took until now for a network to officially pick it up. The show will be airing on NBC, as Vulture reports.
While it's unknown which actors are attached to the series yet — which will consist of 10 episodes in its first season — Downton Abbey creator and writer Julian Fellowes will be leading it. It will be set a few decades earlier, however, in the 1880s when the second industrial revolution was in full swing. Our lens into the era will be at the hands of the show's protagonist Marian Brook, who NBC is describing as "the wide-eyed young scion of a conservative family who will embark on infiltrating the wealthy neighboring family dominated by ruthless railroad tycoon George Russell, his rakish and available son Larry, and his ambitious wife Bertha, whose 'new money' is a barrier to acceptance by the Astor and Vanderbilt set," as Vulture notes.
While Fellowes has made gripping period dramas his signature, the writer opened up about how his own pick for his favorite creation to date is outside that scope, with The Guardian. "I've become a go-to guy for period drama. In this business, you normally get your lucky break because you become known as being reliable for a certain type of part or story. It doesn't mean it's the only thing you can do," he said. "My own favourite, among my work, is a film starring Tom Wilkinson and Emily Watson called Separate Lies. It's not about class at all, or any of the themes I'm famous for. I really enjoyed School of Rock which shook up the pattern a bit. Show business is the business of supply – if there's an audience for a product you know how to provide, then it's foolish to stay away. I'm about to make a period drama in New York, The Chaperone, set in the 20s."
Fellowes also offered some more details about The Gilded Age, revealing, "I've been given a lifetime award by the Edith Wharton society. What she explores is a period of the crossing of two waters in New York – you had the old landed gentry – the younger sons mainly – and from them came George Washington, Thomas Jefferson. They were the dominant social class. They lived in largish, simple houses in Washington Square. And into that culture came this torrent of money after the civil war. These people decided to come and spend their fortunes in New York and they started to build palaces up Fifth Avenue. Park Avenue became a great boulevard of New York. If you go up to the 80s, 90s addresses you can still see these palaces. And there was this great battle of these two social groups. And there was this woman, Caroline Astor, who came from old, original 17th-century settlers and she felt this gave her the right to be the determiner of who was in and who was out. She recognised that New York society had to expand – that there couldn't be two rival societies side by side. She was very powerful. That's the background of what The Gilded Age series will look at."
Related: Can Howards End Be the Downton Abbey Replacement We've Been Waiting For?