Drake Celebrated His 32nd Birthday By Throwing a 2000s-Themed Party
Kendall Jenner even made an appearance in Von Dutch.
---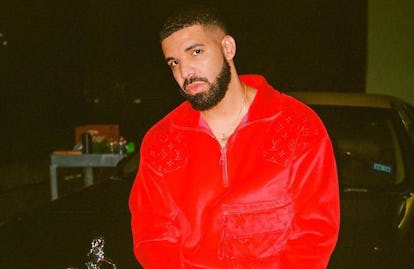 instagram.com/champagnepapi
If there's one thing Drake loves to celebrate, it's himself. Last year for his 31st birthday he held a bar mitzvah that was attended by everyone from Leonardo DiCaprio to Jamie Foxx. For his 32nd, he may have outdid that. Sticking with the idea of a themed fête, Drake threw a party that involved all things from the aughts. The 2000s-inspired event not only had Kendall Jenner in a Von Dutch trucker hat, low rise jeans, and an airbrushed top, it also included a Chanel bag raffle.
Drake, who had two separate looks for the evening, gave his guests plenty of Instagram backdrops. There was an homage to the once-giant video rental chain Blockbuster. There was a set modeled after BET's 106 & Park, which kicked off in 2000 before ultimately airing for the last time in 2014. There was even a wall of t-shirts airbrushed with Drake's face. Plus, Drake brought in 7/11 slurpies, an after-school treat for many late '80s and '90s babies.
As for Drake's own attempt at nailing the aughts vibe, he came dressed as Fabolous straight out of the "Trade It All Part 2" music video from 2002. He also wore another nod to Diddy, who was in that TRL staple: a Sean John velour outfit with one pant leg hiked higher than the other. (While LL Cool J is credited with starting in the 1995 music video for "Hey Lover" and Eminem helped popularize in the aughts.)
While aughts queen Paris Hilton was celebrating another birthday last night (her grandfather Barron Hilton), she likely would have approved of the whole event — especially Jenner's attire. Just this past May, Hilton reflected on her heyday, tweeting, "The early 2000's was such a fun & iconic era for fashion. People didn't have stylists & actually had personal style. Now everyone kinda looks the same!" This isn't the first time Jenner has dressed the same as Hilton: Back in 2016, the model wore the same dress Hilton celebrated her 21st birthday in, which she loved. "To see that re-created just brought back a lot of memories," she told Vogue at the time.
One aughts memory that Drake didn't resurrect for his birthday? His Degrassi days. Then again, that's one 2000s moment that's already played out.