Drew Barrymore Shares the Secret to Her Makeup-Free Selfie With Cameron Diaz
"Her and I are like sisters."
---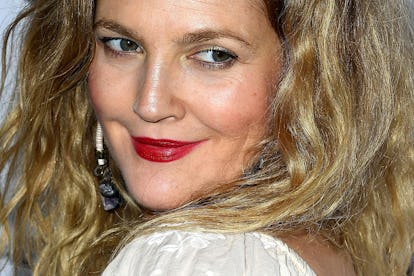 Getty Images
A lot has changed since the last Charlie's Angles movie, but Drew Barrymore and Cameron Diaz's friendship hasn't. The pair have stuck together through thick and thin, career highs and lows, and, well, in makeup and au natural as evidences by a recent social media snap.
The two Charlie's Angels recnetly posed for a gorgeous makeup-free photo, all casual and smiles. Barrymore even made sure to drop some hashtagged skin tips into her caption: "#nomakeup #nofilter #oldschoolsisters #playdate #dayoff #friday #SUNSCREENALWAYS." Got that: ALWAYS.
She later explained the impetus behind the selfie to People during a talk at Beautycon Festival in Los Angeles. "Her and I are like sisters and we see each other all the time and it was just sort of where we are today," she said. "In some ways, just another day in our world, but I felt like sharing it. I love her." The photo is a window into the best friends' actual world — smiling, filled with sunshine, and of course, covered in SPF.
Barrymore also revealed that the duo's movie star glow came not from product or from famous makeup artists, but from something as simple as exercise. "We'd just come from a workout. We feel good. We're not wearing any makeup, and we're just girls being ourselves. And sometimes all makeup and beauty fun aside, it's just about the raw, honest, post-workout look, you know? Just be you," she explained.
The actress was at Beautycon not just to talk makeup-free photos, but to promote Flower. She shared her current favorite picks from her Flower beauty line as well: Petal Pout lips. "I'm wearing them right now. They're a comfort matte and they are just so well pigmented and such beautiful shade range and so wearable. And I'm so glad that we have this great sort of beautiful modern traditional lipstick in the array of shades we have. To me it's like just a good throw in your bag."
Related: Yes, Cameron Diaz Has Retired From Acting: "I'm Literally Doing Nothing"
Cameron Diaz in Marc Jacobs's silk dress, at Marc Jacobs, marcjacobs.com.

Photographer: Michael Thompson Styled: Camilla Nickerson
Ralph Lauren Collection's black silk velvet jacket, at select Ralph Lauren stores, ralphlauren.com; Rodarte's red and black mohair and alpaca knit dress, at Bergdorf Goodman, New York.

Photographer: Michael Thompson Styled: Camilla Nickerson
Photographer: Michael Thompson Styled: Camilla Nickerson
Cameron Diaz wears Proenza Schouler's black sequined silk top, at Ikram, Chicago. Christian Louboutin shoes.

Hair by Eugene Souleiman; makeup by Diane Kendal; manicure by Sheril Bailey at Jed Root Inc. Photography assistants: Christopher Melton and Bryce Ward. Digital technician: Stas Komarovski. Fashion assistants: Patrick Mackie and Beitressa Mandelbaum.

Photographer: Michael Thompson Styled: Camilla Nickerson
Oscar de la Renta's cotton sweater and Lycra bikini, at Oscar de la Renta. M+J Savitt cuff.

Photographer: Mert Alas and Marcus Piggott
TSE's cashmere tunic, at Barneys New York; TSE, San Francisco and Costa Mesa, California. M+J Savitt cuffs.

Photographer: Mert Alas and Marcus Piggott
Calvin Klein Collection's silk and vicose jersey dress, at Calvin Klein New York; Ralph Lauren's sequined and beaded silk pants, at select Ralph Lauren stores. Lanvin earrings.

Hair by Oribe for Oribe Salon; makeup by Lucia Pieroni for Clé de Peau Beauté; manicure by Pauline Boom. Set design by Gerard Santos at Magnet NY. Production by lalaland; postproduction by Dreamer Post. Fashion assistants: Deborah Afshani, Megan Ahern and Felicia Garcia Rivera.

Photographer: Mert Alas and Marcus Piggott
TSE's cashmere tunic, at Barneys New York; TSE, San Francisco and Costa Mesa, California. M+J Savitt cuffs.

Photographer: Mert Alas and Marcus Piggott