Watch Out, Gwyneth Paltrow: Drew Barrymore Is Coming for the Goop Crown
Drew Barrymore is now also a lifestyle guru with the launch of Dear Drew.
---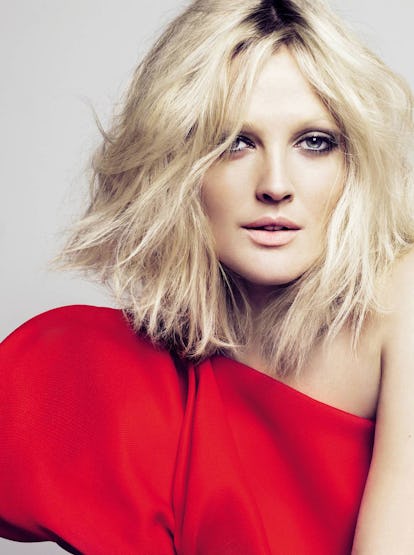 Drew Barrymore, fake zombie and real-life actor, director, producer, and writer, is adding another title to that already impressive list: designer. On Monday, Barrymore launched Dear Drew, her new lifestyle brand with Amazon Fashion. Amazon described the collection as "a love letter to women around the world," the online retailer wrote in a statement. "It is intended to empower customers to be their best selves and live their most inspired, spirited lives" and to "provide inspiration and a grounding voice for all women." Its Instagram is, oddly, private.
Love letter to women around the world it might be, but Barrymore apparently went on an odyssey across New York City to devise the names for the collection: Each garment is named for a city street, each accessory for a neighborhood. There's the "Canal Street" dress, for those who want to channel a tourist scoping ersatz Louis Vuitton on a hot Sunday afternoon, and then there are the "Upper West Side" earrings, for those who want to embrace their inner lady who lunches. The whole thing is a hair more colorful than the uniform of your average New Yorker (read: at all colorful), but for all the ways Dear Drew probably does not cater directly to actual New Yorkers, it makes up for it in enthusiasm for New York infrastructure.
The collection includes just about everything, from dresses to tops, t-shirts, trousers, skirts, jewelry, and accessories, to Barrymore-branded electric appliances. That is, there's a hair tools section, which includes not one but two hair dryers branded with the "Dear Drew" logo, a flat iron, a curling iron, and a styling brush. (These, however, are not New York-specific; instead, the product names follow a "You Are…" formula: the "You Are Powerful" hair dryer, the "You Are Adventurous" travel dryer, the "You Are Effortless" styling brush. Unclear if these little motivational tidbits are directed at consumer, or at the product itself, in which case, she might as well have named it the Little Blow Dryer That Could.)
With Dear Drew, Barrymore also contends with peers like Reese Witherspoon and Gwyneth Paltrow, who previously launched their own lifestyle brands Draper James and Goop, respectively. (Though Goop began life as a beauty brand, it pivoted into fashion with Paltrow's debut collection last fall; after Paltrow had been rumored to be consciously uncoupling from Goop, she doubled down with a collection that included pieces from her "fashion archives"—including one based on a trench she purchased in middle school.) Of course, Barrymore also launched Flower Beauty, her cosmetics brand, with Wal-Mart in 2013, adding eyewear two years later, so she's no newcomer to the merchandising side of things.
Amazon, however, is relatively new to fashion, with just a few in-house lines—but Dear Drew, Amazon's first celebrity launch, places Barrymore in the illustrious company of Diesel creative director Nicola Formichetti, who released a Nicopanda collaboration with Amazon Fashion Europe over the summer.
'Wonder Woman' star Gal Gadot was a very reluctant pageant queen: