Miracle Tricks to Avoid Dry Skin All Winter Long, According to Sweden's Premier Beauty Guru
From dry brushing to baobab oil, Swedish skincare guru Lina Hanson divulges her tricks to silky smooth winter skin.
---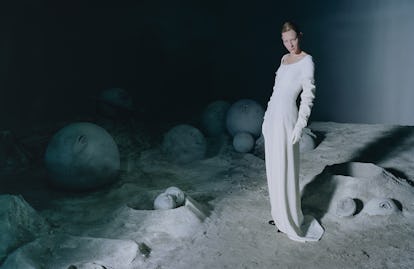 Photographer: Tim Walker Styled: Jacob K
Growing up in Sweden, skincare guru Lina Hanson never had problems with dry skin. "My grandmother was always into natural skin care, and turned me onto oils," Hanson explained of the skin-transforming liquids. When she moved to Los Angeles to work as a makeup artist in the early aughts, Hanson started to make a serum of her own she would bring to set. "I was using it on my clients, and they kept asking me what it was and how they could get some," she added. Her clients' inquiries (Ewan McGregor, Kristin Davis, Brooke Shields, Portia de Rossi, et al) inspired her to launch her namesake six-product line in 2012. Hanson's rich organic serums are composed of exotic non-GMO oils that she sources from around the world, such as camellia, marula, baobab, and Brazil nut, which are sold at Harvey Nichols and Violet Grey. Here, the skincare guru shares tips so we'll never feel chapped skin again.
How did you get into organic skincare? Working as a makeup artist you are exposed to a lot of different products. I started looking at the ingredient lists of the products that were used, and researched to find that there were so many toxins in them. After that, I switched out my entire makeup kit to all green products, which was hard at the time—there were a very limited number of green products out there. I've been using oils for both face and body for such a long time—they're so much better for your skin. Before a red carpet event I would blend oils for my clients. The difference in their skin was immediate. That was the start of the first product I launched, Global Face Serum. I launch one product at a time and take my time with each one. I wanted to make one product that worked on all different types of skin. Something that would absorb easily and fast.
What is your all time favorite oil? Camellia seed oil. Japanese women have been using it forever. It's lightweight and brightening.
Growing up in Sweden I'm sure you had issues with dry skin… That's why my love for oils started so young. My grandmother was really into using oils. I learned a lot from her when it comes to my skin regimen. When you're using conventional creams, they often contain alcohol and preservatives, which dry out the skin a lot whereas oils absorb into the skin. They also contain tons of vitamins and antioxidants. The best thing for your skin in the winter is oil. Oil calmed my dry red cheeks.
There is a lot of debate as to whether oils are absorptive… It's such a misconception that an oil is greasy and sits on your skin. It's the opposite, an oil absorbs into the skin much faster than a cream would, which often just sits on the face. It's the best thing to apply first thing after you've cleansed your skin. All the natural antioxidants penetrate into the skin.
What are the biggest skincare mistakes we often make during the winter? Putting on the heat really high in the house, and taking hot showers. That's really bad for the skin! It's much better to take a warm shower, rather than a hot one. Hot showers are really going to dry out the skin long term. When you're having hot temperatures in the house, keep a humidifier next to your bed. Specifically, when you're sleeping. I keep one on my nightstand. It keeps your skin soft and moisturized. Another misconception is not to exfoliate your skin when it's cold, but it's actually really good to exfoliate as long as it's a mild exfoliation. You can do this once to twice a week for your skin. It's good for polishing off that upper layer of skin. You're going to get more of that smooth, new, refreshed skin.
Legs are notoriously the first thing to dry up in the winter. How do I keep them silky smooth? Dry-brushing! I do it just to take off that top layer of dead skin cells. It's a great way to regenerate skin cells, and it's also great for blood circulation, which is good for the body. You need a loofah or a body brush. Instead of using them when you're wet in the shower, you use it before you get in. It's great for stimulation, and flushes out the toxins from the skin. For 10-15 minutes, you want to brush towards the heart, do your whole body, and get in the shower. It helps for dry skin on the legs because after the shower, when your skin is still damp, you apply a body serum. It helps to absorb into the skin faster too. Also the sauna does wonders! Is amazing for you. another gret way to circulate blood and flush out toxins from your body.
How do I prepare my skin for the winter so it never gets dry in the first place? I would switch out the products I'm using. I'd use an oil cleanser. It doesn't try out the skin like a regular cleanser which often has alcohol would. It's really going to leave the natural oils in the skin, and draw out the excess ones and leaves your skin feeling soft. At the first sign of dryness put on face serum, exfoliate once to twice a week. If your skin is getting dry then you don't want to over dry it. Also buy balm. You lock in moisture when you apply balm on top of serum.
There's a lot of speculation as to whether it's ok to use essential oils on your face and also about whether it breaks down collagen. Any truth? It's about how you handle it. You have to handle essential oils with care. You only need a couple of drops, and it's important to always dilute essential oils. Essential oils do good things for the skin if used in the right amount. In my products I use the minimum amount of oil I can while still making sure it's beneficial enough. I also learn so much when I travel to the countries that produce the oils I use. I learn from the women I visit who have been using organic oils for centuries. If they've used it for centuries, it must be great.
So what is your ultimate secret to skincare be? Simplify your beauty regimen! A lot of women tend to use too many products. It over stimulates the skin. It's the reason for me doing multi-purpose products, having one product for several purposes. For me it was confusing even as a make up artist. I'd rather have quality than quantity.
Beyoncé's Long Curls, Candice Swanepoel's Radiant Skin, and More of the Boldest Beauty Looks of The Week
Model Elsa Hosk takes a detour after the Victoria's Secret Show making a her natural skin and relaxed waves the ultimate travel accessory.

@hoskelsa
Turning heads at the American Music Awards, singer Selena Gomez's new platinum blonde bob takes on a new look for the fall.

@hungvanngo
Victoria's Secret Angel Candice Swanepoel relaxes in Brazil wearing a messy top knot and glowing, radiant skin.

@angelcandices
Model Taylor Hill makes a quick stop in Dubai, wearing a sleek high ponytail with a pop of berry pink lipstick.

@taylor_hill
Model Jasmine Sanders makes voluminous curls and a taupe smokey eye a go-to holiday look.

@golden_barbie
Model Paloma Elsesser bares her natural beauty wearing her relaxed waves, middle-parted with clean skin.

@palomija
Model Joan Smalls is all about the sleek top knot with dewy skin and a soft brown smokey eye.

@joansmalls
Model Kaia Gerber proves that a winged cat eye and a wide-rimmed headband go hand in hand.

@kaiagerber
Model Emily Ratajkowski knows how to relax, making a tousled top knot and a natural pink lip an effortless holiday look.

@emrata
Beyoncé is all about the curls, proving that a long, voluminous ponytail is the ultimate party accessory.

@beyonce
Watch: Haim's 4 Rules for Getting Ready for a Party
Haim's 4 Rules for Getting Ready for a Party