Duchess Camilla Says Even the Royal Family Wasn't Sure How the Royal Wedding Would Go
"We all wondered whatever would happen next."
---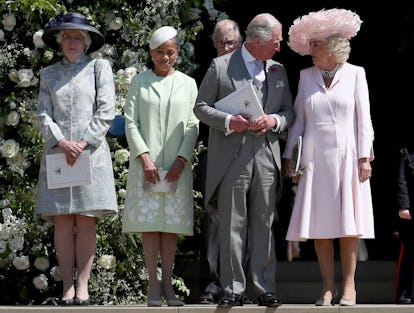 Jane Barlow/WPA Pool/Getty Images
Up until all of last Saturday's royal wedding festivities had come and gone without a hitch, much of the world was undoubtedly waiting with bated breath for still another bout of last-minute drama to crop up. Among this worried group, according to Duchess [Camilla Parker Bowles, were her and several other members of the royal family. During an interview with British radio station Channel 5 on Wednesday morning, the Duchess of Cornwall spoke about her stepson Prince Harry's "uplifting" wedding, and hinted that the palace was as shocked as the rest of us by all of the pre-wedding tumult that came courtesy of Meghan Markle's immediate family.
"It was such a lovely day. Just everything went right," Camilla said, according to the Daily Mail's royal correspondent Rebecca English. "We all wondered whatever would happen next and then everything went right. The only thing is that we are all losing our voices now." She added, "It's nice to have something that is uplifting rather than depressing. Everything was just perfect, including the weather, which couldn't have been better. It was a beautiful day."
Last week, when Meghan's father revealed at the last minute that he wouldn't be attending her wedding—then changed his mind, then changed it again—TMZ echoed Duchess Camilla's statement with a report that the royal family had been completely "blindsided" by Thomas Markle's decision. The palace also released a statement about the matter: "This is a deeply personal moment for Ms. Markle in the days before her wedding," a palace spokesperson said. "She and Prince Harry ask again for understanding and respect to be extended to Mr. Markle in this difficult situation."
In the end, of course, the royal wedding ran as smoothly as possible and was a joyous affair for all involved. And on Tuesday, lost voices or not, the newlyweds reconvened with the royal family for Prince Charles' 70th Birthday Patronage Celebration at the Buckingham Palace Gardens, where Meghan shared a laugh with her new parents-in-law as Harry paid tribute to his dad with a sweet speech (and expertly avoided a bee attack).
Related: Is Sarah Ferguson Finally Ready for Her Royal Comeback?
From Kate Middleton and Prince William to Charles and Diana (and Camilla), a Brief History of British Royal Weddings—And Their Attending Scandals
Original diva Queen Victoria might not have been the first bride to wear white, but she was the one who made a white gown something of a protocol. Victoria commissioned a white lace dress for her 1840 wedding to Prince Albert, intending to support the struggling lace-making industry and best showcase the textile. Further, she destroyed the pattern for her dress so it could not be replicated, and she decreed no one else could wear white to her wedding. After the ceremony, she and Albert—for whom London's Victoria and Albert museum is named—traveled to Windsor Castle for the night; though Albert had hoped to take a two-week honeymoon with his new wife, already the reigning queen, Victoria told him she could not take that much time off from work and they limited their vacation to just a few days.

Heritage Images/Getty Images
On April 26, 1923, Elizabeth Bowes Lyon married George VI, who would go on to become king—and she, the Queen Mother, giving birth to Elizabeth II in 1926. Queen Mary, George's mother, lent her daughter-in-law the lace veil she wore for the occasion. British designer Madame Handley Seymour made the dress—custom dictated it must be a British creation—but its silhouette was based on those of Jeanne Lanvin, then very much in vogue.

Universal History Archive/Getty Images
Between Victoria, which stars Jenna Coleman as the titular monarch, and The Crown, with Claire Foy as Elizabeth II, British royals' romances have been the subject of much pop culture fascination lately. Elizabeth, who was crowned queen in 1953, wore an elaborate dress by Norman Hartnell for her 1947 wedding to Phillip Mountbatten. If she resembles someone out of a Botticelli painting, that's precisely what the designer intended with the delicate floral embroidery and 10,000 seed pearls sewn into the design. It was just two years after the end of World War II, and austerity measures were still in place rationing fabric, buttons, and types of trim, so, reportedly, young women all over England sent their clothing coupons to Princess Elizabeth; with her own savings, plus a 200-coupon bonus from the government, she was able to afford the dress, which took six months to make. (The Crown's reproduction cost a reported $37,000 and took seven weeks.)

Universal History Archive/Getty Images
Elizabeth's younger sister Princess Margaret married the photographer Antony Armstrong-Jones, a contributor to Vogue and Vanity Fair, on May 6, 1960. It was a lavish affair, costing a reported $65,000—not to mention the additional $115,000 of her seagoing honeymoon—that didn't do much to improve her reputation among her subjects. Margaret had previously been embroiled in scandal, engaging in an affair in the early '50s with Captain Peter Townsend, a war hero 15 years her elder, who happened to already be married. Townsend later divorced his wife, but Margaret was nevertheless unable to marry him because her religion—and the royal family's adherence to Catholicism—prohibited her from wedding someone who had previously been married. Still, her subsequent marriage to Armstrong-Jones ended in divorce in 1978.

AFP/Getty Images
When Charles, Prince of Wales, was 24 years old, he met Camilla Parker Bowles. But, according to biographer Sally Bedell Smith, the prince was not yet ready to commit to marriage and gendered double standards of the mid-20th century meant Charles was expected to marry a woman who could plausibly present herself as a virgin. Cue Diana: Though Charles remained enamored of Bowles, he ended up marrying Diana Spencer, a woman 13 years younger whose grandmothers had been ladies-in-waiting to Charles's grandmother, Elizabeth, the queen mother, in 1976. They divorced in 1996, after both had engaged in affairs (Charles, picking up his relationship with Bowles again); Diana died in a car crash in 1997.

Ron Bull/Getty Images
Andrew, Duke of York, the third child of Queen Elizabeth II, and Sarah Ferguson began their relationship in 1985 and married in 1986. They were both 26 years old. Her gown, by the designer Lindka Cierach, featured detailed iconography embroidered throughout, representing Andrew's naval service (anchors, waves), romantic symbols, and images drawn from Ferguson's own family crest. They divorced 10 years later.

Tim Graham/Getty Images
Prince Charles, currently next in line for the throne after his mother, Queen Elizabeth II, married his longtime romantic partner Camilla Parker Bowles in a civil ceremony on April 9, 2005. Bowles, now Duchess of Cornwall, wore a dress by British designer L.K.Bennett with a Phillip Treacy hat for the wedding and a Robinson Valentine ensemble for the service afterwards. The couple opted for a civil service in lieu of a full church wedding, presumably to avoid the controversy that could attend a religious ceremony, given the crown's stance on divorce. (Both Charles and Camilla, at this point, had divorced previous partners.)

ALASTAIR GRANT/Getty Images
In 2011, Prince William, Duke of Cambridge, the eldest son of Charles and Diana and the current second in line for the throne after his father, married longtime girlfriend Kate Middleton, now Catherine, Duchess of Cambridge, on April 29, 2011. (The media circus that surrounded the event just evidences the continued adulation of the British public, though the royal family no longer has any legislative power in the United Kingdom.) Middleton's dress, custom-designed by Sarah Burton for Alexander McQueen with its deep-v neck, long sleeves, high collar, and lace overlay, has inspired countless replicas; among the frontrunners for designers to create the gown were Victoria Beckham and Stella McCartney. Designers Karl Lagerfeld, Oscar de la Renta, and Vera Wang all praised the design, comparing it to royal weddings past like Elizabeth II and Diana. Also at the wedding: Kate's sister Pippa Middleton, whose own wedding is slated for this weekend and who drew headlines of her own with her clingy white dress, also by Alexander McQueen.

Clive Rose/GP/Getty Images
UNITED KINGDOM – JULY 18: The Wedding Of Tim Taylor To Lady Helen Windsor At St Georges Chapel Windsor. Wedding Dress By Catherine Walker (Photo by Tim Graham/Getty Images)

Tim Graham