Eddie Redmayne Is Still Performing Magic Tricks on Late-Night Television
The actor doesn't need a magic wand to perform his tricks.
---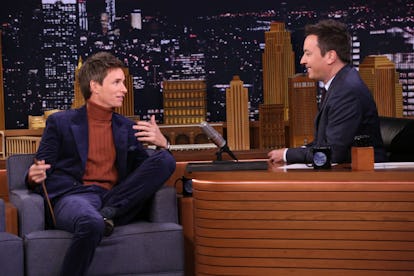 NBC/Getty Images
Somebody call The Magic Castle because Eddie Redmayne is out here performing magic tricks on late-night talk shows again.
During his Wednesday-night appearance on The Tonight Show Starring Jimmy Fallon, Eddie Redmayne took a fresh deck of Jimmy Fallon-branded cards, rifled through them without looking, asked the host to eye a random card from the pack, and then requested that Fallon lick the top of the cards after the audience saw which card he "selected" as his own.
Then, not only did he somehow "write" the card number and suit on the inside of his hand with some sort of magic powder (which presumably came all the way from the Wizarding World, or perhaps just the set of Fantastic Beasts and Where to Find Them), but he then magically made Fallon's card appear in a sealed envelope with his name written on it in some fancy "Hogwartsian" script. It is a genuinely impressive trick that left Fallon scratching his head (figuratively speaking, of course).
As impressive as this sleight of hand was, it was not the first magic trick Redmayne has performed in front of a live studio audience on late-night television. In October 2016, the actor appeared on The Graham Norton Show with Benedict Cumberbatch and Bryan Cranston. It was there that he took a totally "normal" coloring book that was devoid of any illustrations, requested that Cranston blow on it, and suddenly some colorless illustrations appeared. Of course, as a member of the Wizarding World, Redmayne brought a wand and used some of that Harry Potter magic to fill the book with color. Honestly, this trick was not as majestic as the one he did with the cards on The Tonight Show, but we take what we can get when actors who play magicians are actually kind of magicians in real life, too, even if they are a little bit staged.
On Wednesday night, Redmayne also admitted to Fallon that he was "properly, a bit embarrassingly into magic as a kid" and consistently invited magicians to his birthday parties, even as an older teen. He also told the talk show host that he once attempted ventriloquism for an audience of one (his brother who is six years his junior).
Even if Redmayne finds his love of enchantment embarrassing now, he probably shouldn't—how else would he have scored his coveted role as Newt Scamander in the Fantastic Beasts franchise if he didn't believe in magic at least a little bit?
Related: The Final Fantastic Beasts: The Crimes of Grindelwald Trailer Is Packed With Wizarding World Reveals