Eddie Redmayne Discusses Former Classmate Prince William's Teenage Rugby Prowess (or Lack Thereof)
The pair were classmates at Eton College in the '90s.
---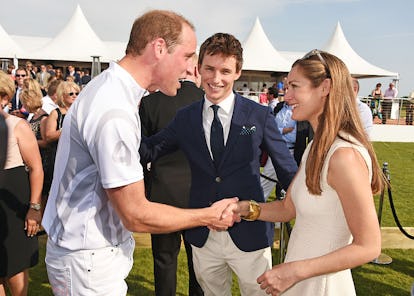 David M. Benett/Getty Images
Eddie Redmayne has had his fair share of run-ins with the royal family.
On Tuesday's episode of Bravo's Watch What Happens Live with Andy Cohen, a caller asked Redmayne if he had spoken to his former classmate Prince William lately, and if he was invited to Prince Harry's wedding to Meghan Markle, in May. "Quick answer to the second one: No, I wasn't. It's fine!" he joked.
As for the first, it is true that Redmayne and Prince William go back quite far. The two were classmates at Eton College, the prestigious all-boys boarding school. The institution is located near Windsor and was founded by William's ancestor Henry VI of England, so it makes sense that the prince would attend the school alongside Redmayne, who was reportedly a soloist in the choir during his Eton tenure.
But the actor and the royal had much more in common than just being Eton Society chums—they also played sports together during their time at the school. "I did play rugby with Prince William," Redmayne said on Tuesday. "I always felt a bit sorry for him because basically any school you played, all they wanted to do was tackle Prince William in order to say, 'I tackled Prince William.' So if you were standing next to Prince William, like I was, it was actually quite easy and quite fun," he quipped.
Those high school rugby tackles, though, aren't even the most awkward interactions the actor has had with the royal family. He went on to open up about the time he received his OBE honor from Queen Elizabeth II, in 2016. "Can I tell you the oddest part," Redmayne said. "You go to Windsor Castle, and you queue up alongside the most extraordinary people who have genuinely done brilliant things, and you're an actor and you feel a bit of a schmuck. You go through a door to meet the queen, and in that room is this huge assembly room of people, it's all royal and palatial, and there's a string quartet playing music…I suddenly heard them playing Coldplay. I think it was 'When You Rule the World,'" he said, likely referring to the band's 2008 hit "Viva La Vida."
Whether or not the two graduates of Eton's class of 2000 have spoken to each other recently remains to be discovered, as the actor-slash-magician didn't answer that part of the caller's question on camera. However, the duo were last publicly spotted together at the Cambridge County Polo Club in July 2015, just months after Redmayne won an Oscar for his portrayal of Stephen Hawking in The Theory of Everything. Both William and Redmayne have certainly come a long way: They're both married with children, and (probably) aren't playing contact sports like rugby anymore.
Related: Eddie Redmayne Is Still Performing Magic Tricks on Late-Night Television