Edith Windsor, Same-Sex Marriage Pioneer, Dies at 88
A vigil is being planned in her honor.
---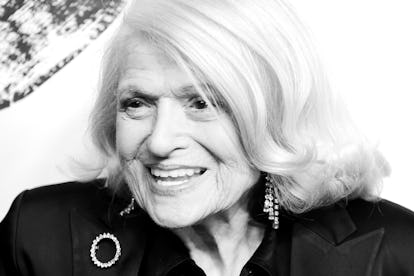 Bryan Bedder/Getty Images for Logo TV
Edith Windsor, a woman who became the face of same-sex marriage equality, has died at 88 years old. Her wife Judith Kasen-Windsor revealed the tragic news to The New York Times, without giving more details including the cause. The pair married last year, though it was Windsor's previous marriage that led to a breakthrough in LGBT equality.
After Windsor's former partner of 40 years Thea Spyer, a clinical psychologist, passed away, Windsor was faced with $350,000 in federal estate taxes and hired attorney Robbie Kaplan at at Paul Weiss Rifkind Wharton & Garrison to challenge the constitutionality of the Defense of Marriage Act. On June 26, 2013, DOMA was found to be unconstitutional by the Second US Circuit Court Of Appeals and, for the first time in history, same-sex married couples were awarded federal recognition and federal benefits. Windsor became a pioneer for same-sex marriage and LGBT equality, destined for history books.
"I did not allow myself to assume we would win," Windsor said after the Supreme Court's ruling, as Buzzfeed reported. "I thought we had every right to win — I thought our arguments were sound every one else's were insane… Over the past two and a half years, many people have asked me, 'Why did you decide to sue the United States of America over a tax bill'? On a deeply personal level, I felt distressed and anguished that in the eyes of my government, the woman I had loved and cared for and shared my life with was not my legal spouse."
"Fighting is very hard—we spend our lives coming out, in different circumstances. We're never all out, somehow. It takes a lot of guts to stand up and let people know—people you've lied to much of your life—that not only are you a lesbian, but you're a lesbian fighting the United States of America," Windsor told NYU Alumni Magazine two years before the ruling, as Buzzfeed points out.
Edith Windsor will be reportedly honored with a vigil to take place tonight in front of NYC's LGBT landmark, the historic Stonewall Inn. The vigil is being organized by the office of Rep. Jerrold Nadler. Additionally, there will reportedly be a memorial service on Friday.
Related: Joy & Remembrance: W's Favorite Photographers Celebrate LGBT Pride Through Their Pictures
See What's Trending in W Video: