Edward Enninful on Turning Rihanna into a Futuristic Queen for September Cover
W's creative and fashion director talks Rihanna in the September issue: "She should [never] wear clothes off the runway because a queen gets her clothes made."
---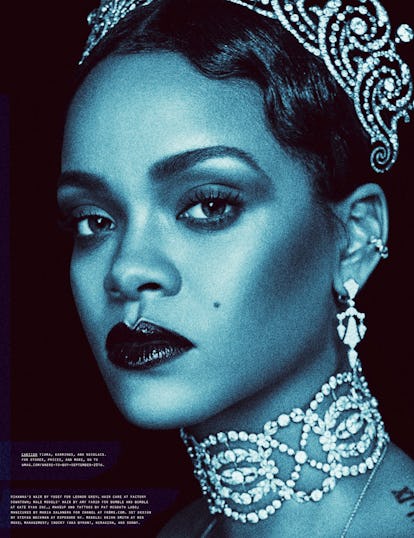 Photographs by Steven Klein, Styled by Edward Enninful
I take random inspiration from everywhere. I was obsessed with these pictures of military men running around with dogs on their backs, and I was like 'Oh, that's a statement about today.' The thing about Rihanna is that she never wants to repeat something she's done, and she did a video where she wore lots of camouflage – so I knew I didn't want to do a military story. Instead, I wanted to do something that was set in the future world. We thought, 'Wouldn't it be nice to take this concept and apply it to the last woman on earth, the last warrior on earth, really.'
Instead of doing military clothes, I wanted something more futuristic, which is very much a part of the [fall] season. Hood by Air, Prada – all these designers showed collections that had a futuristic edge. So she's living in a dystopian world and she's fearless, which is pretty much Rihanna's personality. She's not scared, and that's what I love about her. She's royalty. When I talked to Rihanna, I told her that I didn't think she should wear clothes off the runway because a queen gets her clothes made. So then we got designers, like Prada, Margiela, to make specific things for her. Everybody used the theme of the last woman on earth. So basically if she was the last woman on earth, what would she wear? How would she protect herself? It's like whatever she finds – rocks, keys, furs – she puts on her body. Dior came up with a jacket that was almost like a second coat of armor. Loewe remade a bustier. Margiela made this beautiful tin foil-like cape out of tarp fabric.
And Rihanna was very involved. With Rihanna, it's always a collaboration and that's why I love her so much. So I'll send her ideas, she'll bounce them back. It's not me going, "Here you go, Ri." It's 100 percent collaboration. I'll send her one of the sketches and she'll say "Oh I love it," or "I wish it was shorter."
She was on tour [while we were planning], so there was a lot of exchange of images. We found a fit model who's her exact size, and we had her exact measurements. On set, everything she put on was perfect. We shot at an undisclosed location in New York. We worked for 24 hours, 9 a.m. to 9 a.m. I haven't done that since I was 16! But the energy in that room was electric. I remember at one point, I told Steven [Klein] "I'm so tired," and I go outside and it's light out and I see that other people had gone and come back to work. But we were so in the zone. There's something about a photoshoot, it's about searching. When you find it, this magic happens. It's like adrenaline, I didn't realize we had been working all that time. It was incredible. And with Rihanna, she's almost like from another planet.
I first met her on a W cover shoot three years ago. I remember meeting her on set and I just liked her whole nonchalance. It was like meeting a long lost sister. I call her my baby sister. Later, I got the Isabella Blow award in London. She flew in to surprise me, and she gave me the award, which was incredible. I have a lot of respect for her. Her vision and her talent. There's nothing she can't do. She can design, she can sing, she's the best model, just naturally gifted. And I like the fact that to her, creativity is creativity. It's not like, I'm going to be an actress now, it's all just fluid. She can go from one to another.
As told to Ally Betker.