In the South of France, a Mitterrand Builds a Lush Art Park That's Part Gallery, Part Escape
Inside Le Domaine du Muy, Edward Mitterrand and Iana Moreno's 25-acre estate in Provence that's full of art to admire—and to buy.
---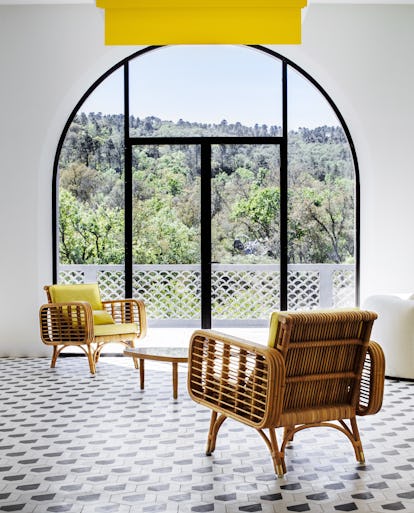 Photographs by Matthieu Salvaing
In early May, Edward Mitterrand was deciding whether or not to install a full-size male figure by the British artist Antony Gormley on the side of his house in Provence. "I love it," he said of the prone man cast in bronze. "It has the qualities of sculptures made 2,000 years ago, and yet it is completely of the present day." Then he frowned. "The thing is, it needs to stay pristine until I sell it."
The Gormley was the latest arrival at Le Domaine du Muy, a rambling new sculpture park on 25 acres in Le Muy, France, which Mitterrand has been developing with his father, the veteran art dealer Jean-Gabriel Mitterrand, since 2014. By last spring, 40 large-scale artworks (all available for purchase) had been carefully placed in the wild landscape of tufty bushes, cork oak, and native pines. At the entrance, the hundreds of polished stainless steel balls that make up Yayoi Kusama's Narcissus Garden clinked in a pond; farther up a hill, a cluster of mirror-and-metal modules by Tomás Saraceno reflected the sky.
Le Muy received its first visitors in 2015, but 2017 marks "the real beginning," said Mitterrand, 48, sounding just a bit anxious. "It's been a major exercise." H
e sighed. "When we first dug the paths two years ago, it was January and pouring rain, and we couldn't really see what we were doing. Then by June there were 15 of us digging away in 104-degree heat."
Art is the family business, at least for this branch of the Mitterrand clan. Jean-Gabriel first opened a gallery in Paris's smart 7th arrondissement in 1988, but discreetly abbreviated the name to JGM Galerie. His uncle François was president of France at the time, and it didn't seem right to capitalize on the Mitterrand name. A close friend of the artists Niki de Saint Phalle and Claude and François-Xavier Lalanne, and a major player in their careers, Jean-Gabriel began to use his full name only three years ago, when he moved into a new gallery space in the Marais. Edward joined the art world in 1999, opening a gallery in Geneva with an exhibition of paintings by Jean-Michel Basquiat. "I had them on consignment from a dealer called Enrico Navarra, who'd really committed to Basquiat and Keith Haring early on," he explained. "But those Basquiats were around $200,000 to $300,000 then. No one was quite sure about them." Then, as now, he felt the pressure. "There are expectations, you know," said Edward. "No one ever forgets my name. 'He's a Mitterrand! Let's see what he's up to!' "
Le Domaine du Muy is about halfway between Monte Carlo and ­Marseille, a part of southern France that's awash with money and art. Just up the hill is Navarra, the Basquiat man, who first made his reputation working with the family of Marc Chagall and has lived in the area for some 20 years; an outsize flowerpot sculpture by Jean Pierre Raynaud currently looms over his swimming pool. Up a little farther is Patrick Seguin, the steely 20th-century-furniture specialist, who has driven the market for the work of the French designer and engineer Jean Prouvé. His house, a masterpiece by the architect Jean Nouvel, will be finished in about two years. The artist Tracey Emin has her own hilltop retreat not far away, above Le Lavandou; Brad Pitt and Angelina Jolie's winery is in Correns, a 42-mile drive; and until recently, David and Victoria Beckham owned a property in the nearby village of Bargemon.
Off in one direction is the beautifully manicured Château La Coste, where the haute hotelier Paddy McKillen (the properties under his management also include Claridge's, the Connaught, and the Berkeley, all in London) mixes contemporary architecture and exemplary outdoor art with winemaking. A new hotel, designed by the Hong Kong architect André Fu, has just opened on that site. On the other side of Le Muy is the foundation of Bernar Venet, the urbane French artist who spent the late 1960s in New York, and who now exhibits his own curling steel sculptures beside those of his best friend Frank Stella on pristine green lawns. Maryvonne Pinault, the publishing magnate Charles-Henri Flammarion, and the Prince and Princess zu Sayn-Wittgenstein have all dropped in at Le Domaine du Muy as they headed down to the Côte d'Azur.
Compared to its chic neighbors, Le Domaine du Muy is rather rough around the edges. "It's low-key, very natural, quite harsh in parts," said Edward. But the unpretentious setting has been a success with collectors. A huge blue-violet star by Mark Handforth, first shown in Jean-Gabriel's Paris gallery, was snapped up by a German collector the moment he saw it in its new surroundings. A green acrylic–painted rock by the American artist Dan Colen has found a home nearby. "I sold it to a very nice private collector in Mougins, just down the road," said Edward. "He wanted something colorful and fun and South of France." A pair of street signs by Gianni Motti (one reading SUCCESS, the other FAILURE) has been acquired by the owners of a five-star golf hotel a little farther inland. "For people to see work in an outdoor context, and not within the walls of the gallery, makes all the difference," said Edward. "What excites me is the bigger adventure of making all this happen."
This summer, the house—which may or may not be embellished with the Gormley—was finally finished, too. It has been reworked inside and out by India Mahdavi, whose deft touch has transformed everything from hotels for the Swiss patron Maja Hoffmann to stores for Valentino. "It was a horrible fake-Provençal thing," said Mahdavi of the original residence. "So we painted the exterior silver, to make the house disappear, and anchored it in the landscape by creating a long horizontal base." She also incorporated floor tiles inside in dazzling Prussian blue, white, and black, which she had made specifically for the project. Edward and his partner of three years, Iana Moreno, 46, will spend summers here, and friends and children will come and go. Edward has boys aged 11 and 13; Iana's are 17 and 19. "Amazingly," said Edward, "they are all supernice to each other."
Iana's own input at Le Muy "is purely psychological," she said, though she does assist Edward in the art-advisory business he started after closing the gallery in Geneva in 2015. "Edward can be a bit direct; I'm a bit softer."
At Le Muy, the couple is literally moving mountains to make their dream of an outdoor gallery a reality. A Conrad Shawcross sculpture failed to find a place at Le Muy last year—"It would have come in three huge trucks, and we realized we couldn't even get them down the drive," said Edward. Still, a new pavilion in stainless steel and glass by Dan Graham had arrived safely. A creepy Carsten Höller clown carousel, which rotates backwards, demanded significant care when its surface blistered in the sun. Sol LeWitt's 1993 1-2-3 Tower, made of concrete blocks, looked infinitely better when moved just a few feet away from the path. "We have learned all the lessons now," said Edward as he sat down on a bench by the Morocco-based artist Jean-François Fourtou—traditional in design, but so immense it dwarfed even Mitterrand's rangy frame. "I'd like to think we're experts in the field." In fact, the only thing missing now, he said, was something by Alexander Calder. "I really need to work on that one," he said.
Watch W's most popular videos here: