Elizabeth Hurley Has Been Having the Most Carefree Summer Ever, According to Her Instagram
No one blows a kiss to the camera before swiftly exiting the frame quite like Elizabeth Hurley does on Instagram.
---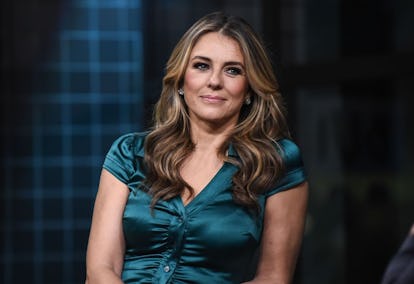 Daniel Zuchnik
Elizabeth Hurley has taken flexing on Instagram to new heights in recent months. From her feed, which shows the model-slash-actress swimming in Greece to boating in Ibiza to posing poolside at Tagomago Island, a private island off the coast of Spain, it would appear that Hurley has been in perpetual vacation mode after filming season five of her E! television series, The Royals.
Of course summer is the perfect time to show off your thotty side on social media—it's way too hot out and everyone is wearing significantly fewer clothes with each passing day in the summer heat, and obviously there is no place better for the occasion than on Instagram. The message most people wish to send with their thirst traps on Instagram tends to be, "in case you forgot I was hot, here is proof that I am still very much attractive and very much in shape." Everybody knows this, and every summer spent idly scrolling through that app becomes a game of managing viewing the onslaught of celebrity bikini vacation photos while trying not to get too jealous, but sometimes the vacation pictures make the subjects within them look so insouciant and happy that one cannot help but unabashedly enjoy them, like a gift.
As is the case with most celebrities, if you look closely enough you'll find that there is a discernable pattern to the content Hurley shares on her social media platforms. She has a handful of activities she records herself doing for the gram—walking towards the camera and blowing a kiss just before she exits the frame, twirling in a bathing suit on a beach, and whispering into the lens. Aside from occasionally promoting The Royals, that's pretty much all she does on Instagram, and she does it quite well, even as summer comes to an end.
When, why, and how this pattern of social media behavior emerged for Hurley may remain a mystery, but there is no denying that she is having the time of her life and can't resist showing off on Instagram. And who could blame her? She looks great, wears a considerable amount of caftans, has a positive relationship with her son Damian (a main character of sorts featured on her feed, and a fixture of this truly unexplainable Christmas card from December 2017 in which he is photoshopped next to his mom as a member of The Incredibles), and seems to be enjoying her other job as a bikini designer. How could one not enjoy keeping an eye out for Hurley on Instagram?
Related: Damian Hurley, Elizabeth Hurley's 15-Year-Old Son, Is Already an Actor to Watch Out For