Are Elon Musk and Grimes Back Together?
They went pumpkin shopping in Los Angeles.
---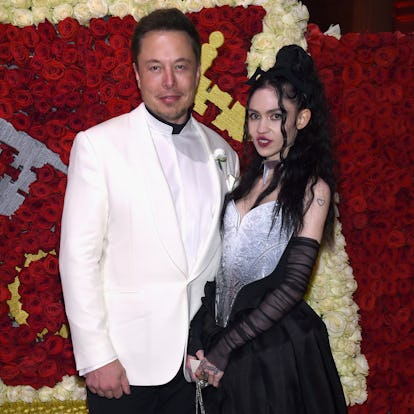 Dimitrios Kambouris/MG18/Getty Images
If you're hoping that Pete Davidson and Ariana Grande may one day get back together, well, for now you get the possible reunion of Elon Musk and Grimes. (Sorry.) Per photos in the Daily Mail, the once-defunct celebrity couple visited a Los Angeles pumpkin patch over the weekend with all five of Musk's sons in tow. According to The Cut, this marks the first public sighting of Musk and Grimes together since August, which was right around the time that Azealia Banks said some things on Twitter.
The outing could signal that these two are trying to make it work, or it could simply mean that they stayed friends after a brief but highly eventful relationship. And while social media might be rejoicing at the fact that this highly meme-able duo is hanging out again, those who have a business stake in Musk's many endeavors might not be as pleased.
Remember when the Tesla CEO tweeted about taking the company private for $420 a share? Well, he reportedly did it for Grimes's own personal amusement. In fact, many of Elon Musk's recent head-scratching antics seemed to coincide with their relationship timetable since he and Grimes made things public at the Met Gala last May. Since then, Grimes hasn't released any good music, and Musk has apparently been slowly sabotaging his tech empire.
Of course, it's not our place to say who should and shouldn't be together. Truth be told, Musk and Grimes look pretty happy to be back in each other's company. And since we're all still reeling from the news that Pete and Ariana have called it quits, love could use a win right about now.