Elsa Hosk Would Totally Wear Her $1 Million Victoria's Secret Fantasy Bra Out Partying
"Don't you think it's a bit '90s?"
---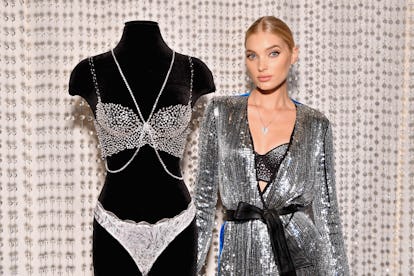 Slaven Vlasic
Each year, an earthbound Victoria's Secret Angel is bestowed with a distinct honor: the right to wear that year's fantasy bra at the annual Victoria's Secret Fashion Show. And in turn, of course, that means walking down the runway with millions of dollars in diamonds and other precious stones adorning her bra. This year, that honor goes to Elsa Hosk, the 29-year-old Swedish model who has been working with the brand since 2015. Come Thursday, Hosk will hit the catwalk in this year's most valuable bra, which is worth $1 million, and was designed by Atelier Swarovski and hand-set with 2,100 Swarovski created diamonds. On Monday night, just hours after the announcement was made, however, Hosk was calm as she hosted a high tea at the Plaza Hotel to celebrate the big news. "Today was very crazy," she said, "but it was amazing and fun." Here, the model talks about hearing the big news, and previews what's to come at the show.
When did you find out that you would be wearing the bra?
Like a month ago. I've been having to be really quiet about it.
Have you slipped up and told anyone?
Oh, yeah. All my friends know about it already.
How did you find out?
[Victoria's Secret] had a fake shoot planned for me, and everyone was just watching me. I was like, "Why is everyone watching me?" Then someone was like, "There's a box for you." And I thought, It can't be the fantasy bra because I'm not wearing the fantasy bra. Then I opened it, and it was the fantasy bra, and I freaked out. I was shaking, and dropped to the floor. I couldn't believe it. It is so beautiful. It is literally the most beautiful fantasy bra I've ever seen.
Did it register immediately what you were looking at?
Yes, right away. It was the fantasy bra. I knew. It couldn't have been anything else.
Why did you think it wasn't going to be you wearing the bra this year?
I was totally sure it wasn't going to be me, and I think that's what made it so special, because it was such a surprise. I thought it was going to be someone else, like, not me. But they were like, "It was always going to be you." And I just couldn't believe it. I'm so honored and proud to be in that line of iconic models who have had the bra. There's only been like twenty of them, so it's really cool.
Have you spoken with any of the models who have worn it in past years?
I spoke to Jasmine [Tookes]. She texted me and was like, "Congrats, you're going to rock it. I'm so happy for you, and just enjoy the moment." You know, the time we're out on the runway is such a short moment. So she was like, "Just really have fun because this is your moment." It was so sweet.
Who was the first person you told when you found out?
My friend, because I knew she was going to be freaking out and super excited. And then I told my boyfriend. He's not really in this world, and he doesn't really know much about it even though I'll tell him all about it. But he doesn't really get it. He was like, "Oh, my god, I know this is a big deal for you." But he doesn't get it.
What do you think of this year's design?
Don't you think it's a bit '90s?
It's really cool. You almost want to wear it with a pair of jeans.
Exactly! That's what I thought. It's something you could wear out. And that's why it's so cool that they wore the replica version, so you can wear it out. It's really Britney [Spears]. That's why I was listening to her this morning, so that I could get into the character of the fantasy bra.
Are you excited for the musical performances on Thursday?
Yes, I'm super excited. It's like girl power; there are a lot of female performers. It's super cool. I'm all about it.
Shawn Mendes won't know what hit him.
Oh, god, yeah. He's going to be like, "Oh!"