Emily Ratajkowski's Stylist On How To Do Sexy—But Not Too Sexy—Holiday Dressing
Emma Morrison, the woman behind Emily Ratajkowski's style, breaks down how to dress for the holidays.
---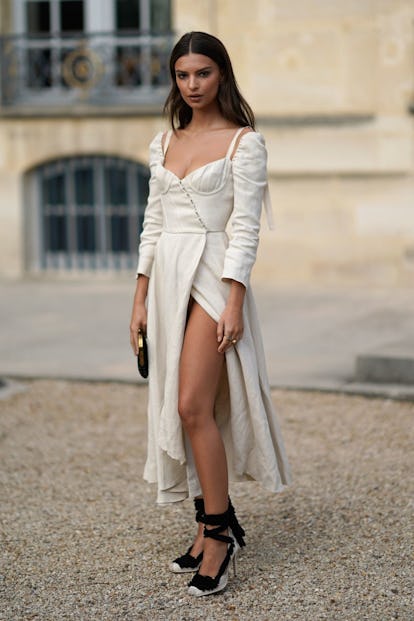 It's the peak of holiday party season and for celebrity stylist, Emma Morrison, there is no sign of slowing down. The former Vogue fashion editor has already made her mark on her celebrity clients Emily Ratajkowski and Imaan Hammam, propelling them into the fashion spotlight and grabbing them placements on quite a few note-able best-dressed lists. Perhaps she could chalk it up to her style icon Kate Moss or her editorial days, but nonetheless Morrison has taken her fashionable instincts and transformed her star clients into red-carpet darlings. Here, Morrison breaks down her tips for holiday party dressing, as well as what's on her holiday wish-list, and more.
Favorite look you've styled this year:
I loved the cream burlap Brock dress and Altuzarra espadrilles that Emily wore during Paris Fashion Week. It was so romantic and dreamy—and I also love that it was two younger American brands.
Biggest tip for holiday dressing:
You can still look sophisticated while wearing something relaxed. I love minimalist, casual ready-to-wear worn with maximalist accessories—a simple cashmere sweater and well-fitting jeans can have real punch when paired with festive shoes. I'm currently a huge fan of the feathered Lima mules from Manolo Blahnik and the jeweled satin booties from Roger Vivier.
Go-to holiday party look:
Pants under dresses! I love a simple midi-length dress over a pair of trousers. Emily recently wore a feathered Prada dress with wide-leg pants and it looked so grounded and cool.
[#instagram: https://www.instagram.com/p/Bcc1zqVg_ZC/?taken-by=emmajademorrison
Best alternative to a party dress:
Printed pajama sets and silk foulard dressing robes.
What to avoid wearing this holiday season:
The oft-chronicled New Year's Eve combination of a fur jacket and shiny dress feels tired. I think that it's much fresher to break this couple up and to temper a party dress with a masculine blazer or a big fur jacket with baggy bottoms.
Biggest styling mistakes:
Using a homogenous style for all of your clients. I also harbor pet peeves for "naked" dresses and wrinkled silk!
Style icons:
Camilla Nickerson, Phoebe Philo, and Kate Moss. And Sienna Miller's character Nikki in Alfie is the ultimate early-aughts party-girl.
Describe your style in three words:
Slouchy, classic, and subtle.
Favorite stores in L.A.:
Erewhon, Just One Eye, and The Row.
Favorite stores in New York:
Front Street Vintage, Aedes De Venustas, De Vara, and oo35mm.
Last purchase:
A Celine leopard coat from FW 2014 that I have been obsessively hunting for on eBay.
Lusting after:
Knits and mismatched evening sandals from Calvin Klein, a facial from Georgia Louise, and thin gold upper arm bracelets from Jennifer Fisher.
Something you'd never wear:
A tight suit vest as a top.
Favorite accessory you own:
A simple silver toe ring that I never take off.
Favorite holiday movie:
Friday Night Lights (the TV series) and anything Nancy Meyers—her cozy interiors can't be beat.
Favorite holiday tradition:
Fondue in the back room of Cafe Select.
Related: Emily Ratajkowski On the Power Of Optimism in Fashion When "A Lot of People Feel Really Hopeless"
Supermodels Talk About On-Camera Nudity