Watch Emily Ratajkowski Become the Spitting Image of Sophia Loren
Just add winged eyeliner.
---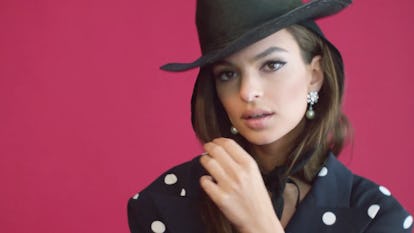 Allure
Emily Ratajkowski has played a mistress (in Gone Girl), nude backup dancer (in the "Blurred Lines" music video), and one-night stand (in the fifth episode of Easy), but now she's taking on arguably her sexiest role yet: Sophia Loren look-alike.
In a new video from Allure, the magazine's August 2017 cover star transforms into a nearly perfect doppelgänger of the Italian actress. In the span of the two-minute clip, hair and makeup artists add dramatic winged eyeliner, a dark brow pencil, and Old Hollywood–style curls to help Ratajkowski give 1960s-era Loren a run for her money.
As the transformation occurs onscreen, the model and actress speaks about Loren's appeal. "Sophia in three adjectives: unique, timeless, and talented," Ratajkowski says. "I think she's the most beautiful, elegant movie star ever — like, throughout time." She continues, "Women have so many different sides to them, and I think that hair and makeup is a way of exploring that. It's also about having the means to kind of expand on all of the possible versions of yourself, like the strength to kind of be whoever you want."
Ratajkowski, 26, adds, "Sophia Loren, specifically, found empowerment in being, like, the sex symbol, but also she was this incredible actress and woman who had, like, lived through all kinds of things. She was a mother, and she still represents all these different sides, and I just — I love that."
The supermodel has also found a similar empowerment in being both a sex symbol and outspoken advocate for women's rights. In her new Allure cover story, she speaks about the feminist principle of women reclaiming their own sexuality. "It really bothers me that people are so offended by breasts," she said. "That's when I realized how f*cked our culture is. When we see breasts, we don't think of beauty and femininity. We think of vulgar, oversexualized images."
The Instagram-savvy star also wonders in the video what a modern-day Loren's social media presence would be like, a question that seems like a no-brainer to us — it would almost definitely look exactly like Ratajkowski's own feed, especially her recent, enviable posts from the sunny, bikini-clad, rosé-filled vacation she took to Italy in June.
Alas, we will never know for sure: Unfortunately, the 82-year-old is conspicuously absent from all forms of social media.
Related: Emily Ratajkowski Can't Stop Instagramming Her Bikini-Filled Italian Vacation
Emily Ratajkowski and Other Supermodels Talk About On-Camera Nudity:
Sophia Loren's Style Evolution: Yesterday, Today and Tomorrow
Headshot, circa 1950.
Photo by Silver Screen Collection/Getty Images.
In Venice in 1955.
Photo by Archivio Cameraphoto Epoche/Getty Images.
At a press conference in 1955.
Photo by MP/Leemage.
Circa 1955.
Photo by Diltz/RDA/Getty Images.
Wearing Christian Dior in 1956.
Photo by Keystone-France/Gamma-Keystone via Getty Images.
As Epifania Parerga in The Millionairess, directed by Anthony Asquith, in 1960.
Photo by Silver Screen Collection/Hulton Archive/Getty Images.
In New York in 1958.
Photo by Peter Stackpole/The LIFE Picture Collection/Getty Images.
Circa 1960.
Photo by Silver Screen Collection/Getty Images.
With Gregory Peck during the production of 'Arabesque' at Gatwick in 1965.
Photo by Worger/Express/Getty Images.
Circa 1965.
Photo by Silver Screen Collection/Getty Images.
At Heathrow airport in 1965.
Photo by Stroud/Express/Getty Images.
With her husband Carlo Ponti after receiving the first Alexander Korda award, naming her International Star of the Year at the world premiere of her film Lady L in 1965.
Photo by Keystone/Getty Images.
At home with her husband Carlo Ponti and their two sons, Carlo Jr. and Edoardo, in 1976.
Photo by Alfred Eisenstaedt/The LIFE Picture Collection/Getty Images.
In 1987.
Photo by The LIFE Picture Collection/Getty Images.
After appearing on Larry King Live in 1995.
Photo by Ron Galella/WireImage.
CANNES, FRANCE – MAY 21: Sophia Loren attends a photocall to present Cannes Classics at the 67th Annual Cannes Film Festival on May 21, 2014 in Cannes, France. (Photo by Michel Dufour/Getty Images)