Emily Ratajkowski Talks About Her Return to Music Videos, and the Suit She Wore To Her Wedding
The newlywed stars in a new digital campaign for DKNY where she lipsynchs "Funkytown" around New York City.
---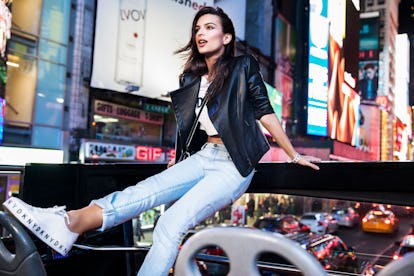 In 2013, Emily Ratajkowski catapulted into the pop culture stratosphere with a scene-stealing appearance in the scandalous music video for Robin Thicke's ubiquitous pop hit "Blurred Lines." For Ratajkowski, that moment feels like a lifetime ago. "I guess it was five years, which isn't very long, but it feels like a long time," she told W this week.
And that's fair: since then, she has become one of the most in-demand models in the world, and made the transition into acting, appearing in a number of buzzy films, including this spring's Amy Schumer-starring I Feel Pretty. (Schumer and Ratajkowski have something else in common: both have had surprise weddings this month. Following in Schumer's footsteps, Ratajkowski announced last week that she had married producer Sebastian Bear-McClard in an intimate ceremony at New York's City Hall.) But Ratajkowski has not completely turned her back on the medium that helped make her a star. Today, DKNY has released their Spring 2018 digital campaign, a minute-long music video filmed by Theo Stanley and styled by Clare Richardson, that shows the model lip-synching to Lipps Inc's "Funkytown" as she dances across New York City. Here, Ratajkowski, who is currently in Los Angeles for the Vanity Fair Oscars Party (movie-wise, she loved Call Me By Your Name; "I thought that was great and hope it wins a lot.") talks about filming the video in New York City, and why she chose a $200 suit to wear to her wedding.
How did the idea for this video come about?
The concept was based on how can we interact with the city even more than previous DKNY campaigns. Last season was really fun and silly, and we liked the idea of walking a dog in lingerie, and this was a way to connect with the city even more.
How did you land on the "Funkytown" for the song?
It's kind of perfect for the city. The DKNY girl is the girl who has just moved to New York and takes it over, and I think that song really embodies that.
Did you know all the words beforehand?
I mean, there's actually not that many words. It's pretty repetitive, but in the best way. But trust me, by the end of the day, I definitely knew all of the words.
What is your usual go-to karaoke song?
I usually sing "That Thing" by Lauryn Hill. I usually fail miserably, but I try every time.
What was it like to film around the city?
It was super fun. Probably the most fun we had was going on the bus and being on the double-decker and standing up and narrowly missing lights. Those lights hang pretty low and I was standing on the top of the bus. But it was really fun. The casting was great and we really did interact with random people on the streets. We used the city as our set, which was cool.
Did you get any weird reactions?
We definitely attracted a crowd, but in general, I think it's pretty normal for New Yorkers to see that kind of madness.
What's the strangest thing you've seen in New York?
Wow, I don't know. I honestly don't know. Probably me jumping around singing "Funkytown" or walking a dog in lingerie. That's probably up there.
What are you favorite places in New York?
I used to live in the East Village near Tompkins Square Park. I like Russ & Daughters for lox and schmear, I like Abraço for coffee. I like Keens for steak.
How does your style differ in New York versus in Los Angeles?
New York is really hard for me. I grew up not really ever having to consider weather or layers, so it was really easy to get dressed because you could just throw on a dress or whatever. In New York, if have to factor in your street look and then if you go inside, what happens there? But now I have a good collection of coats that has helped me.
Is there anything you've worn recently that you really love? The yellow suit you posted on your Instagram was so great—how did you land on that?
I knew that I really wanted to wear a suit. I was thinking about a red suit, and I actually love mustard yellow, it's one of my favorite colors. For my swim line I made a really good mustard yellow, and it is just a color that I love to wear. It felt a little bit personal to me, and also I just loved the cut of the suit. I was in a Zara uptown and picked it out and thought, "This will do."
Related: Emily Ratajkowski Announces Surprise Courthouse Wedding