The World Is Still Clinging to Hope of an Emma Stone and Andrew Garfield Reunion
Emma Stone had been spotted in London at least once since Andrew Garfield's play began.
---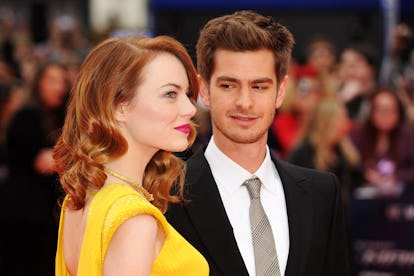 Dave J Hogan
In a year littered with the dissolution of so many celebrity relationships, a hopeful rumors arrises in England. According to one of the country's notoriously lurid tabloids, an Emma Stone and Andrew Garfield reunion may be imminent.
The couple met on the set of their version of Spider-man in 2011, and spent the next four years being the definition of the hashtag #couplegoals before amicably separating in 2015. The pair, of course, has often bumped into each other on the awards show circuit, as superstar young serious actors tend to do, and then grew to personify the hashtag #breakupgoals to the types of people who need a hashtag to explain everything.
Well, The Sun now reports that Garfield and Stone have been spending time together again. Garfield has been busy for the past few months in London starring the West End production of Angels in America. Per the rumors, Stone has flown to England several times and sat in the audience of the Lyttleton Theatre several times and then has gone backstage several times. They've also been supposedly seen "sneaking out of the back door holding hands," well, at least once, but possibly several times.
"Andrew's feelings for Emma never softened and now they are growing close once again," says either The Sun's unimpeachable source or their in-house fan fiction writer.
Stone had been spotted in London at least once since Garfield's play began. Back in May, she popped up at the Audi Polo Challenge, sans Garfield, of course. Now, however, she's back in New York, with newly blonde hair, shooting her upcoming Netflix show Maniac.
We should note that it was exactly a year ago to the week that the pair were actually captured on film together strolling London. At the time it also sprouted some reunion rumors, but clearly those didn't come to (immediate) fruition.
Who knows what is the truth.
Maybe they are back together and love is back from the dead.
Maybe they've just remained really good friends who still hang out with each other.
Maybe Stone is just a really, really big Angels in America fan and is desperate to get tickets to multiple performance (which is possible. It's a good play, perhaps more relevant right now than ever, and tickets are hard to come by).
Maybe this rumor is completely fiction, but we're all desperate to cling to in the wake of the ends of celebrity relationships like that of Anna Faris and Chris Pratt.
The answer should make itself clear eventually.
There's a very real possibility that both actors could find themselves on the red carpet of every single award show again during this upcoming season.
Stone has plenty of buzz for her performance as Billie Jean King in Battle of the Sexes. If anything, she's all but certain to at least get the Golden Globes nod in the Best Actress in a Comedy category (that might be one of the safest bets of awards season, come to think of it).
Garfield meanwhile has an upcoming turn in the film Breathe that could net him another nomination.
Related: Andrew Garfield, Method Actor, Describes Himself as a Gay Man While Starring in Angels in America
Andrew Garfield's Idea of Heaven Is Disneyland and Brownies: