Emma Stone and Billie Jean King Attended the U.S. Open Together
King and Stone heaped praise on each othe
---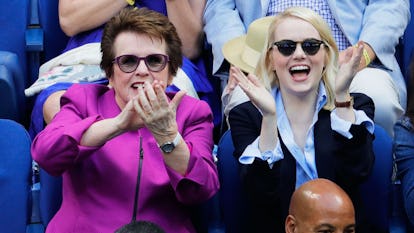 Jackson Lee/WireImage/Getty Images
When you're the reigning Oscar Best Actress, you undoubtedly have your choice of U.S. Open dates. For Saturday night's women's championship match, Emma Stone took full advantage of this perk and attended the event with an extra-special guest: tennis champ Billie Jean King, whom Stone portrays in the upcoming film Battle of the Sexes.
Stone and King were spotted cheering, laughing, and taking photos of each other in the stands of Arthur Ashe Stadium on Saturday as 24-year-old Sloane Stephens brought home the trophy, defeating Madison Keys. This year's U.S. Open, which took place at the Billie Jean King National Tennis Center in New York City, also marked the 50th anniversary of King's winning the women's singles, women's doubles, and mixed doubles championships at the 1967 U.S. Open.
In a court side interview with ESPN during the match, King and Stone heaped praise on each other. When asked what it was like to watch Stone bring her story to life onscreen, King, 73, said, "First of all, to be played by Emma—I was in shock, amazed, thankful, and blessed." She continued, "You know, she is the number one actor in the world right now, and just to listen to her and how eloquent and how much work she did; she works hard, but she's also really smart and really intelligent." King added, "It's been quite amazing spending time with Emma now, and I'm still learning, but she's amazing, how she does her processing."
Stone, 28, was equally admiring of her offscreen counterpart: "I think that my favorite quality in Billie Jean—and maybe many people feel this way—is that she's a true humanitarian. She's someone who listens to everybody's story, she asks so many questions," she said. "And sitting here at the U.S. Open next to her, hearing her commentary on the sport, is just—she's so brilliant in so many ways."
Last month, Stone revealed to Entertainment Weekly that her approach to preparing for the role did not include spending too much time with the tennis pro IRL. "At first, I was very excited to get to meet and to know Billie Jean, but I also really quickly realized that I was going to need to distance myself the slightest bit," Stone said. "She was so warm and open with me, but she's also so fully formed now and has a good 45 years of reflection on this time in her life. I was so desperate not to let her down and was so nervous about it, I sort of tried to get to know her through old footage more than asking her questions."
She added, "It was a tricky balance because as much as I wanted to be best friends forever with her because she's the warmest and kindest and funniest individual, I was like, if I get too close, I think I'm going to really be afraid."
Related: Emma Stone Is Spending Her Summer Vacation in Wine Country
Emma Stone Sucked Her Thumb Until She Was 11 Years Old:
Emma Stone's New Blonde Hair Is Just One of Many Stunning Looks
Attending the premiere of Superbad in 2007, actress Emma Stone looked fresh faced and youthful with simple black liner and her red locks softly tousled.

Jon Kopaloff/FilmMagic/Getty Images
Stone arrived to the 2008 MTV Movie Awards with her hair swept back with an embellished clip, dewy skin and black eyeliner.

Jon Kopaloff/FilmMagic/Getty Images
Darkening her locks to a deep auburn, Stone attended the premiere of Zombieland in 2009 with a golden smoky eye and a nude lip.

Jon Kopaloff/FilmMagic/Getty Images
Stone was platinum blonde with blunt bangs and a dramatic smokey cat eye at the The Trevor Project Annual Show in 2010.

Gregg DeGuire/FilmMagic/Getty Images
Stone radiated elegance with a simple up do, a natural eye and sun-kissed skin at the 68th Annual Golden Globe Awards in 2011.

Evan Agostini/NBC/NBCU Photo Bank/Getty Images
Attending the 5th Annual Essence Black Women in Hollywood Luncheon in 2012, the actress kept her red hair loosely pinned back.

Todd Williamson/WireImage/Getty Images
Back to blonde! At The Croods film premiere in 2013, Stone changed up her beauty look with a sleek playful top bun and a bright pink lip.

Luca Teuchmann/WireImage/Getty Images
At the 2014 Met Gala, Stone wore her hair softly tousled in a side braid and a shimmery, bronze smokey eye.

Larry Busacca/Getty Images
Stone attended the 71st Venice Film Festival in 2014 with her newly chopped locks in a tousled bob. She also wore a subtle winged eye and a berry lip.

Elisabetta A. Villa/WireImage/Getty Images
Attending the 21st Annual Screen Actors Guild Awards in 2015, Stone looked classic with a sleek side pony, a red lip, and a black winged eye.

Jeffrey Mayer/WireImage/Getty Images
Exuding old Hollywood glam with her auburn locks softly tousled to the side, rosy cheeks and a coral lip, the Birdman actress looked the part of an Oscar nominee at the 87th Annual Academy Awards in 2015.

Steve Granitz/WireImage/Getty Images
Stone showed off her dark side at the 2016 Met Gala with her brunette locks in a sleek do, a dramatic dark smoky eye and a nude lip.

George Pimentel/WireImage/Getty Images
Celebrating her Oscar win for her role in La La Land, Emma Stone steps out wearing her auburn red locks in elegant curls with a burgundy red lip.

Getty.
Wearing a soft mauve lip with her golden blonde tousled waves, Stone arrives at the AFI Life Achievement Award Gala.

Getty.
Debuting her latest look, Stone steps out in New York City with her new shoulder length platinum blonde locks

Getty.