Emma Stone Is Spending Her Summer Vacation in Wine Country
Photos surfaced this week of Emma Stone visiting a vineyard and meeting celebrity chef Thomas Keller in California's wine country.
---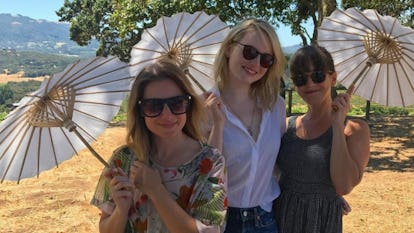 suglyn/Instagram
It's understandable to think that Emma Stone's 2017 peaked with her Best Actress win at the Academy Awards in February. Understandable, sure — but ultimately incorrect.
In fact, Stone's life has only seemingly improved since her Oscars victory. Case in point: photographic proof surfaced this week that the La La Land actress is living what can only be described as her best life while visiting California's dreamy Napa Valley with a group of friends over the weekend. In photos posted to Instagram by some of the four pals with whom she traveled to wine country, Stone and company pose with parasols, grapevines and, of course, glasses of red wine as they explore the grounds of the Kunde Family Winery in Kenwood (which boasts an extremely respectable 4.5-star rating on Yelp).
One of the posts by Stone's friend Martha MacIsaac reveals that the group took a break from gallivanting around the idyllic vineyard in order to dine at French Laundry, celebrity chef Thomas Keller's Michelin-starred Napa restaurant. At French Laundry — widely known as one of the most expensive restaurants in the U.S. — they met Keller himself and dined on his legendary ever-changing nine-course tasting menu, much of which is included in MacIsaac's multi-picture social media post.
Despite being in sunny wine country, Stone, 28, has still managed to make headlines this week for comments she previously made about the gender pay gap in an interview with Out magazine. "In my career so far, I've needed my male co-stars to take a pay cut so that I may have parity with them. And that's something they do for me because they feel it's what's right and fair," she told Billie Jean King — who Stone portrays in the upcoming film Battle of the Sexes about King's iconic 1973 tennis match against Bobby Riggs. Stone added, "Our getting equal pay is going to require people to selflessly say, 'That's what's fair.'"
Pour one out at that winery for the gender pay gap, Emma.
For La La Land and Beyond, It's Impossible to Pin Down Emma Stone's Eclectic Style
Emma Stone in Prada at the Metropolitan Museum of Art Costume Institute Gala for 'Manus x Machina' in New York, New York, May 2016.

Getty Images
Emma Stone in Roland Mouret at the Hollywood Foreign Press Association Grants Banquet in Beverly Hills, California, August 2016.

WireImage/Getty Images
Emma Stone in Atelier Versace at the opening ceremony of the Venice Film Festival and the premiere of La La Land in Venice, Italy, August 2016.

WireImage/Getty Images
Emma Stone in Chanel at the Venice Film Festival in Venice, Italy, August 2016.

GC Images/Getty Images
Emma Stone in Rochas at the party for Katie Says Goodbye at the Toronto International Film Festival in Toronto, Canada, September 2016.

WireImage/Getty Images
Emma Stone in Chanel at the press conference for La La Land in Venice, Italy, September 2016.

WireImage/Getty Images
Emma Stone in Chanel at the premiere of La La Land at the Toronto International Film Festival in Toronto, Canada, September 2016.

FilmMagic/Getty Images
Emma Stone in Rodarte at the special screening of La La Land during the Mill Valley Film Festival in Mill Valley, California, October 2016.

FilmMagic/Getty Images
Emma Stone in Prada at the Kennedy Center Mark Twain Prize in honor of Bill Murray in Washington, D.C., October 2016.

WireImage
Emma Stone in Chanel at the premiere of La La Land at the Denver Film Festival in Denver, Colorado, November 2016.

Getty Images
Emma Stone in Rosetta Getty at a special screening of La La Land in Los Angeles, California, November 2016.

Getty Images for Lionsgate
Emma Stone in Prada at the premiere of La La Land in Westwood, California, December 2016.

FilmMagic
Emma Stone in Rochas with Ryan Gosling at their hand and footprint ceremony at TCL Chinese Theater in Hollywood, California, December 2016.

FilmMagic/Getty Images
Emma Stone in Giambattista Valli at the Hollywood Reporter Women in Entertainment breakfast in Los Angeles, California, December 2016.

Getty Images for The Hollywood Reporter
Emma Stone in Gucci at the W Magazine Best Performances pre-Golden Globes party in Los Angeles, California, January 2017.

Getty Images for W Magazine
Emma Stone in The Row at a screening of La La Land in London, England, January 2017.

Getty Images