Emma Stone Says Male Co-Stars Have Taken Pay Cuts For Her, Compares Her New Film to the 2016 Election
Actress Emma Stone, who stars in the new film Battle of the Sexes, based on the famous 1973 face-off between Billie Jean King and Bobby Riggs, discusses the film's resonance with the Trump v. Clinton presidential contest.
---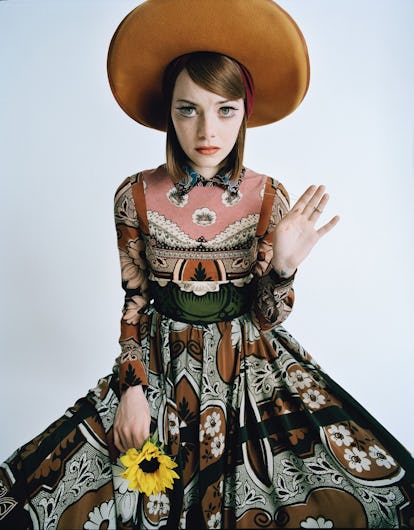 Photo by Tim Walker, styled by Jacob K.
In the spring of 2016, actress Emma Stone began working on Battle of the Sexes, her new film based on the famous tennis face-off by the same name between women's tennis champion Billie Jean King and retired men's player Bobby Riggs in 1973. The film, which stars Steve Carrell as Riggs, premieres later this year, and, as Stone explained in a new interview alongside King herself and co-star Andrea Riseborough in Out magazine, the parallels with the current political landscape couldn't be eerier.
"It was very interesting to see this guy—this narcissistic, self-focused, constantly-stirring-the-pot kind of guy—against this incredible, qualified woman," Stone said—referring to Donald Trump's campaign against Hillary Clinton, though she could have just as easily been referring to her own character and Carrell's. More than a year after filming began against the backdrop of a Trump candidacy, the now-president's tirades against women continue, as does his obsession with Clinton, his one-time opponent. "The way this has all panned out has been fascinating and horrifying, and it still feels like we're in a bad dream."
Stone cited equal pay as a site of particular resonance. King was an outspoken advocate for women's equality—her threatening to boycott the U.S. Open over disparities in prize money for men and women resulted in the tournament being the first to award both contests equally, according to Out—and so, when Riggs defeated the reigning champion Margaret Court in a similar "battle of the sexes," King stepped into the ring. (Riggs was known for his condescending, sexist statements: "Women belong in the bedroom and kitchen," he reportedly once said.) It was also the year of Roe v. Wade—a watershed moment for women's agency over their own bodys—and 40 years before the Supreme Court would strike down the Defense of Marriage Act with United States v. Windsor. (King was closeted at the time, outed in 1981 by her hairdresser Marilyn Barnett, played by Riseborough in the film.) More than 40 years later, white women still make an average of 80 cents for every dollar a male coworker earns, and that disparity increases for more marginalized groups like black and Latina women.
The actress has tackled the pay gap head-on: "In my career so far, I've needed my male co-stars to take a pay cut so that I may have parity with them. And that's something they do for me because they feel it's what's right and fair," Stone told King in Out. "Our getting equal pay is going to require people to selflessly say, 'That's what's fair.'"
Not to spoil the ending, but King trounced Riggs in three sets, 6-4, 6-3, 6-3. Politics and workplaces just still haven't caught up.
Emma Stone, Natalie Portman, and more of the year's best performances get really, really into "I Will Survive"—and their timing couldn't be better: