Emma Stone Takes Over From Jennifer Lawrence As the World's Highest-Paid Actress
J. Law dropped to No. 3 on the list.
---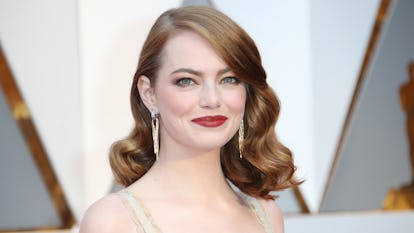 Dan MacMedan/Getty Images
Emma Stone and Jennifer Lawrence's friendship is one of the most valuable in the world—and not just because of their unconditional support for each other. According to Forbes, the two Oscar winners are among 2017's 10 highest-paid actresses in the world, with Stone taking over Lawrence's place at the top of the list.
The magazine reports that most of the $26 million (before fees and taxes) Stone earned between June 1, 2016, and June 1, 2017, was due to her role in La La Land, which snagged her the Academy Award for Best Actress earlier this year and brought in $445.3 million globally. Forbes also notes that this was Stone's biggest year ever in terms of finances and that her income increased more than that of anybody else on the list. Lawrence, who topped the 2015 and 2016 lists with $52 million and $46 million, respectively, dropped to No. 3 this year, earning "just" $24 million. (The decrease can probably be credited to the absence of any more Hunger Games movies.) Between the two pals is Jennifer Aniston, whose $25.5 million came mostly from her partnerships with Emirates, Smartwater, and Aveeno.
Rounding out the top five are Melissa McCarthy, at $18 million, and Mila Kunis, at $15.5 million. Although Emma Watson was previously considered to be a contender for the top spot due to the massive success of Beauty and the Beast, she took sixth place, matching Charlize Theron's earnings of $14 million. Cate Blanchett and Julia Roberts, at $12 million apiece, and Amy Adams, at $11.5 million, finish out the top 10 highest earners. Per Forbes, the list's overall total of $172.5 million is 16 percent less than last year's total of $205 million. Additionally, only three women on this year's list earned more than $20 million, compared with four of last year's top earners.
Luckily for Lawrence, 27, and Stone, 28, it's hardly lonely at the top. Both have previously spoken about their powerful friendship, which they maintain in a group text that includes fellow Best Actress winner Brie Larson. In an interview with Vanity Fair last year, Jen revealed that she and Emma first got to know each other by texting back and forth every day for a year. "I feel like it was our version of The Notebook — 365 texts," she joked, adding, "I love my job. I don't know what I would be without acting. So if there is someone who loves the same thing, it should bring us closer. But it depends on how that person is, and Emma is so normal and lovely." In the same interview, Emma echoed Jen's sentiments. "We both really do love each other and care about each other as people, beyond being actors," she said. "I support her completely when it comes to work and I feel the same from her, but I know we'd be friends even if we didn't do the same job."
Related: Emma Stone Is Spending Her Summer Vacation in Wine Country
Emma Stone Sucked Her Thumb Until She Was 11 Years Old:
For La La Land and Beyond, It's Impossible to Pin Down Emma Stone's Eclectic Style
Emma Stone in Prada at the Metropolitan Museum of Art Costume Institute Gala for 'Manus x Machina' in New York, New York, May 2016.

Getty Images
Emma Stone in Roland Mouret at the Hollywood Foreign Press Association Grants Banquet in Beverly Hills, California, August 2016.

WireImage/Getty Images
Emma Stone in Atelier Versace at the opening ceremony of the Venice Film Festival and the premiere of La La Land in Venice, Italy, August 2016.

WireImage/Getty Images
Emma Stone in Chanel at the Venice Film Festival in Venice, Italy, August 2016.

GC Images/Getty Images
Emma Stone in Rochas at the party for Katie Says Goodbye at the Toronto International Film Festival in Toronto, Canada, September 2016.

WireImage/Getty Images
Emma Stone in Chanel at the press conference for La La Land in Venice, Italy, September 2016.

WireImage/Getty Images
Emma Stone in Chanel at the premiere of La La Land at the Toronto International Film Festival in Toronto, Canada, September 2016.

FilmMagic/Getty Images
Emma Stone in Rodarte at the special screening of La La Land during the Mill Valley Film Festival in Mill Valley, California, October 2016.

FilmMagic/Getty Images
Emma Stone in Prada at the Kennedy Center Mark Twain Prize in honor of Bill Murray in Washington, D.C., October 2016.

WireImage
Emma Stone in Chanel at the premiere of La La Land at the Denver Film Festival in Denver, Colorado, November 2016.

Getty Images
Emma Stone in Rosetta Getty at a special screening of La La Land in Los Angeles, California, November 2016.

Getty Images for Lionsgate
Emma Stone in Prada at the premiere of La La Land in Westwood, California, December 2016.

FilmMagic
Emma Stone in Rochas with Ryan Gosling at their hand and footprint ceremony at TCL Chinese Theater in Hollywood, California, December 2016.

FilmMagic/Getty Images
Emma Stone in Giambattista Valli at the Hollywood Reporter Women in Entertainment breakfast in Los Angeles, California, December 2016.

Getty Images for The Hollywood Reporter
Emma Stone in Gucci at the W Magazine Best Performances pre-Golden Globes party in Los Angeles, California, January 2017.

Getty Images for W Magazine
Emma Stone in The Row at a screening of La La Land in London, England, January 2017.

Getty Images