Emma Watson's Stylist Shares Her Fashion Predictions For 2018
Rebecca Corbin-Murray, the woman behind It-Brits like Emma Watson and Lily James, shares what everyone will go crazy for next year.
---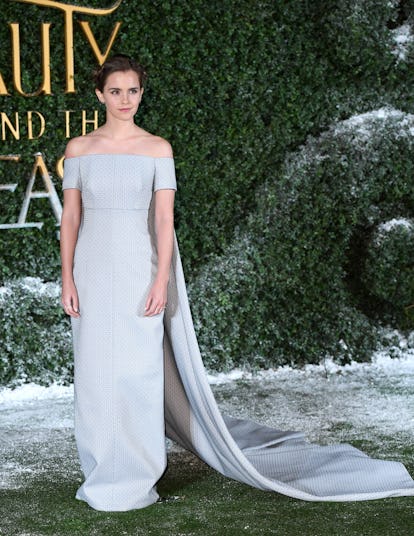 Karwai Tang/Getty Images
While it seems the world these days has their eyes on the United Kingdom and a certain monumental proposal that's happened, there's another fashionable Brit worth keeping tabs on as we enter 2018: celebrity stylist, Rebecca Corbin-Murray, who's responsible for the looks of both Lily James and Emma Watson, to name a few. The London-based stylist took a moment to share some of her insight with us and just what it will take to elevate your own style going into the new year. Good underpinnings and individuality are just some pieces of advice Corbin-Murray shares, while she also advises to stay away from "anything that wears you." Read on for more of her 2018 trend predictions, and more.
Dream clients:
Women who use their platform to give voices to the voiceless in our society and to use their craft to inspire change


Editorial styling or celebrity styling: 
Beautifully crafted images can inspire and move people with their beauty and I love the idea of storytelling through imagery which is why I also love working with personalities as we can create their own visual narrative
Describe your style in three words: Tailored, subtle, comfortable

.
Daily uniform: I'm based in London, so I tend to live in Louis Vuitton boots, dark or black trousers, or Khaite jeans and Celine sweaters for about 10 months of the year. Favorite stores in London: Alex Eagle, Peter Harrington, Schneider Boots, Matches, Golborne Road Shops.
Best style tip for 2018: Good underpinnings.
Biggest trends to try in 2018: Individuality. Trends to avoid in the 2018: Trends.
What trend are you most excited to try on your clients this year: Sustainability Brands you look forward to working with in 2018: Monse, Hellessey, Galvan, Khaite, 16 Arlington, Favorite brands to work with the past year: Louis Vuitton, Emilia Wickstead, Erdem, and Oscar de la Renta, among others. Favorite look you styled this past year: Sophie Turner in Louis Vuitton at the Golden Globes.
Biggest styling mistakes: Anything that wears you.
Style icons: Charlotte Rampling, Jane Birkin, and Francoise Hardy.
Best recent discovery: Barbara Sturm moisturizer and serum

. Last purchase:
Something you'd never wear: Never say never

.
Most prized possession in your closet: My mother's vintage Chanel jacket

.
Related: For Sophie Turner, the Scariest Part of Playing Sansa Stark in Game of Thrones Was Dying Her Hair