Evan Rachel Wood Admits She Turned Down a Role in Mean Girls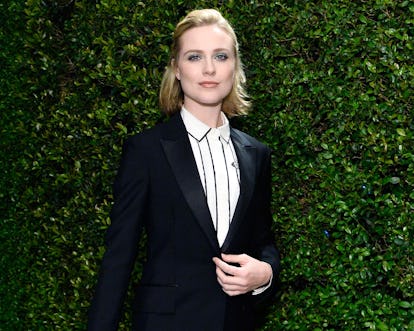 Stefanie Keenan/Getty Images
Evan Rachel Wood's hair might not be unusually big, but it is apparently full of secrets. The Westworld star appeared on The Tonight Show Starring Jimmy Fallon Thursday night where she admitted after all these years that she could have appeared in Mean Girls.
"Did you audition for Mean Girls?" Jimmy Fallon asked Wood (Mean Girls creator Tina Fey appeared on the show Thursday to promote the Broadway adaptation of the beloved teen classic). "No, it's even worse," the actress word vomited—ahem, we mean, said. "I turned it down."
"There's a good reason," Wood continued. "The only reason is because I was already supposed to do a film called Pretty Persuasion that was set in a high school, that was very Heathers-esque, and it was very similar." According to Entertainment Weekly, in Pretty Persuasion, which was released in 2005, just over a year after Mean Girls, Wood portrayed a teen mean girl who accuses a teacher of sexual harassment to garner attention for herself.
Wood never mentioned which part she was offered and while she surely would have fit right in as North Shore high school student, all's well that ends well. Lindsay Lohan, Rachel McAdams, Amanda Seyfried, and Lacey Chabert went on to comprise the iconic Mean Girls cast, while Wood now stars in her own juggernaut HBO series (Westworld's second season premieres on April 22) as the scarily lifelike (and in a sense, plastic?) robot Dolores, whose now-famous catchphrase, "These violent delights have violent ends," could certainly be applicable in girl world. After all, Regina did get hit by a school bus in the end.
"Tina, if you're here, I'm so sorry we got off on the wrong foot," Wood added. "As long as the next movie you're doing is not about a robot uprising, I will happily, happily [do it]."
Unfortunately, Pretty Persuasion did not go on to achieve the cult status Mean Girls has, but Wood did get to work with Fey's future 30 Rock co-star Jane Krakowski in the film.
Related: Evan Rachel Wood Gave a Powerful Testimony About Her Experiences With Sexual Assault and Domestic Abuse So Survivors Can Get More Rights