Exclusive: Emily Ratajkowski Sheds the Bikini, Embraces Her Inner New Yorker in Latest DKNY Campaign
The model travels through the city in the new images, which were shot in Soho and Nolita by real estate scion Sebastian Faena.
---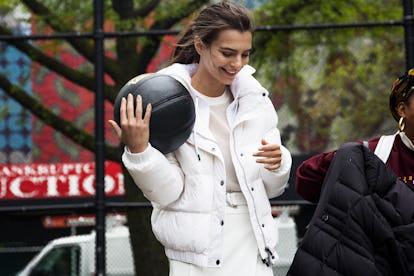 Emily Ratajkowski may have technically been born and raised in California, but now she's all New York—at least, when it comes to her latest ad campaign.
Today, DKNY is revealing its Fall 2017 advertising campaign, starring the 26-year-old model and actress in series of photos shot all around New York City. Titled #OnlyInDKNY, the campaign shows Ratajkowski interacting with several situations that can happen, well, only in New York: dancing with a street performer; playing a game of pickup basketball; hanging out with Miles McMillan; general posing around the streets of Manhattan (because actually, how often can you walk around Soho without running into at least one photoshoot?). The campaign was shot around the Soho and Nolita neighborhoods.
The shots picture Ratajkowski in a variety of black-and-white ensembles from the brand's Fall 2017 collection, which included updates on some of the label's core essentials from over the years, including a logo puffer jacket, the boyfriend blazer, and the little black dress. The pieces will also be available in stores in an array of colors including red, aubergine, and emerald green, but, hey, this is New York and black is the unofficial uniform.
The campaign launch comes after a summer of decidedly non-New York adventures for Ratajkowski, who has taken to Instagram time and time again to show off her Italian adventures. The actress was in the country to film her latest movie, Welcome Home, which co-stars Breaking Bad actor Aaron Paul and centers around a married couple who take a vacation in Italy but fall victim to their rental home's owner' s evil intentions.
After wrapping the film, Ratajkowski hung around to take in the local sights, and, naturally, post a good amount of bikini shops. But since summer is officially starting to wind down, the multi-hyphenate is already getting back to work, aka going on Jimmy Kimmel to talk about how dirty her car used to be.
Here, an exclusive look at DKNY's fall campaign, including a behind-the-scenes video of Ratajkowski in the city:
Emily Ratajkowski in the new DKNY campaign.
Related:Emily Ratajkowski Can't Stop Instagramming Her Bikini-Filled Italian Vacation
Supermodels Talk About On-Camera Nudity
21 Crop Tops You Can Wear, Even If You're Not Emily Ratajkowski