Uncommon Threads
From woven-leather tweed to latex-coated wool, the stuff of fashion is getting weirder and wilder by the season
---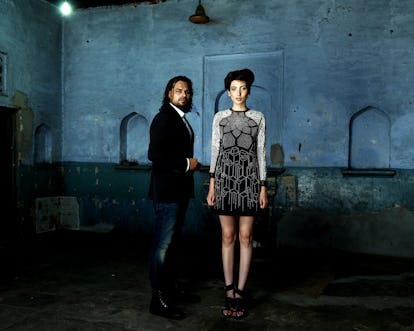 Photographer: Bharat Sikka
Growing up in a remote village in India, ____ Rahul Mishra lived in a house with no television and, at times, no electricity. And so, he spent his days drawing pictures outdoors, "building my creative story," as he puts it. Still, in his wildest childhood fantasies he could never have imagined that, one day, he would design clothes so remarkable in their technical innovation that he would win the International Woolmark Prize, which he did this past February, beating out Joseph Altuzarra, among others. The fashion critic Tim Blanks, who judged the competition along with Gucci's Frida Giannini and Italian Vogue's Franca Sozzani, claimed that Mishra's collection actually moved him to tears, with its seamless marriage of art and science. Indeed, the half-dozen looks, crafted from fine-filigree merino wool intricately woven with silk on a hand loom using traditional Indian techniques for a translucent effect, were a study in ingenuity. "For me, design is about finding new possibilities," Mishra says.
And he is hardly the only designer on the hunt. In fact, many of the world's most exciting talents are pushing fashion forward not by playing with extreme new shapes (because, really, who besides Lady Gaga wants to wear a jacket with three sleeves?) but by experimenting with fabric. "For us, the variation of silhouette is pretty subtle from season to season," says Lazaro Hernandez of Proenza Schouler. "So the creative process is driven more by manipulating materials in unexpected ways." Take, for instance, the "tweed" from which he and his partner, Jack McCollough, made simple skirts and a jacket for fall 2013. It was formed using printed and perforated strips of leather woven onto a leather base. For the round-shoulder coats and jackets in this fall's collection, they wove a photo print of a carpet pad into a jacquard and brushed it to achieve a spongy texture. "We spend a lot of time on development," says McCollough, noting that the process is often their favorite part of putting a collection together. Their quest for new materials has led them to work with manufacturers of cars and aeronautics parts. "It can take quite a few trials to get each fabric right," McCollough notes.
The Italian designer Marco de Vincenzo, who has gained acclaim—not to mention LVMH funding—for his giddy reinvention of classic materials, often works with several factories simultaneously to produce a single textile. The waved macramé he used for tailored coats and clean-lined cocktail dresses in his fall collection started as an embroidered georgette from one manufacturer and was then laser-cut elsewhere before being lacquered at yet another factory, resulting in an undulating, eye-popping, 3-D effect. "I believe that fabrics have to give collections a sign of the times," de Vincenzo explains. "It's this desire to be contemporary that guides me more and more toward innovative techniques."
Alexander Wang, who ended his own label's fall show with a series of laser-cut, thermo-reactive leather car coats, has been experimenting with knitwear at Balenciaga—a house known for fabric innovation ever since the Swiss company Abraham developed silk gazar in 1958 to allow Cristóbal Balenciaga to better mold his sculptural gowns. Wang, who looks to the latest performance gear for inspiration, coated cabled wool with latex (a laborious process that involves hand-massaging the rubber into every nook and cranny), cleverly affixed knitted wool onto the necks and bodices of leather dresses, and, in the case of two resolutely cool kimono jackets, bonded the wool to leather, leaving the cable pattern to show through. But, of course, radical thinking doesn't always yield tangible results. Wang admits that finding ways to realize his more out-there ideas can be difficult: "Often, they just remain these abstract notions in my head." Until next season, at least.
Rahul Mishra, with a model in one of his designs, New Delhi, India.

Photographer: Bharat Sikka
Marco de Vincenzo fall 2014 runway. Courtesy of the designer.
Balenciaga fall 2014 runway. Courtesy of the designer.
A fabric swatch from Proenza Schouler's fall 2014 collection.

Photographer: Tim Hout
Proenza Schouler fall 2014 runway. Courtesy of the designer.
Hair and makeup by Anu Kaushik. Model: Kanika Dev. Photography assistant: Vikas Maurya. Production by Suhana Sharma at Flying Pigs Production.