#Fashionvictim Promises to Be the Mean Girls and Heathers Mashup of Your Dreams
E! just ordered the pilot.
---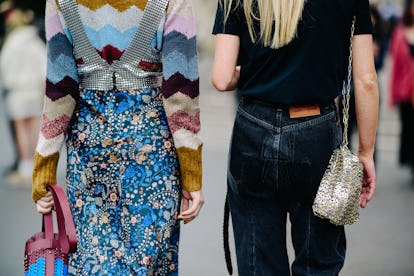 2017 Adam Katz Sinding
E!'s latest TV show might be able to fill that Sex and the City-sized hole in your heart, following the news that the SATC threequel is a no-go. #Fashionvictim, for which the network just ordered the pilot, is the latest TV program that aspires to be the beloved show's millennial counterpart. It helps that the potential series, which follows the fashion-obsessed Instagram influencer and hopeful editor Anya St. Clair, has a strong pedigree. The project is being helmed by Daniel and Mark Waters, two brothers who cumulatively made Heathers and Mean Girls happen (Daniel wrote the former and Mark directed the latter).
Together, the Waters brothers wrote the pilot for #Fashionvictim and will executive produce it. Mark, the Mean Girls alum, however, will be directing it, Variety reports. The pilot's team also includes 500 Days of Summer producer Jessica Tuchinsky, who will executive produce alongside Leslie Greif. As for the basis of the series, it will apparently be sourced from real-life fashion editor and writer Amina Akhta, as Variety notes. "In insanely good news, the pilot based off my manuscript is a go!," she tweeted. "I'm so excited I need to go dance around the house now."
There is not yet an expected date for the pilot, but it couldn't come at a better time—not just because there isn't more Sex and the City on the way. Nostalgia for Mean Girls has been high, with levels peaking as Tina Fey's Broadway musical version is about to premiere April 8. Plus, a reboot of Heathers is also in the works for next year with Grace Victoria Cox and James Scully as the stars and original cast member Shannen Doherty on deck as a frequent guest. Plus, the fact that one more female-centric show is coming to TV is a welcomed addition considering the inequality that female TV actresses still face. According to a recent study by San Diego State University, females are outnumbered by their male cast mates on 89 percent of TV shows. Meanwhile, females account for just 42 percent of speaking roles on TV. On the bright side though, more shows like #Fashionvictim means more progress.
Riverdale's Lili Reinhart talks boy bands, Lizzie McGuire, and other obsessions: