Faye Dunaway, 77, Looks Resplendent in New Gucci Film With Soko
They star as an impossibly chic mother-daughter duo.
---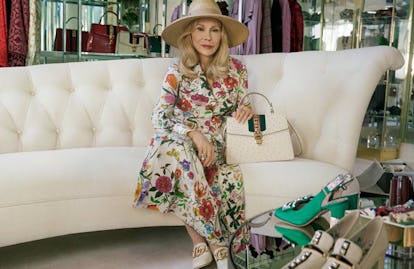 Gucci
Few luxury fashion houses have their fingers on the pulse of culture as much as Alessandro Michele's Gucci, and its latest ad is just another reminder of that. Faye Dunaway and French It girl Soko, who recently announced her pregnancy, star in it as an impossibly chic mother-daughter duo, helmed by in-demand auteur Petra Collins.
The result is a nostalgia-tinged look at an average yet fabulous day in the life of this pair as they presumably play mother and daugther. After some heavy shopping—at Gucci and in Gucci, of course—Dunaway and Soko do their best Royal Tenenbaums impressions as they lounge by the pool and hit the tennis court in logo-laden track suits. Soko, a music artist who's served as a muse to Gucci creative director Alessandro Michele for the past couple of years, even plays the piano in the clip for Dunaway, as she looks on dotingly, before gifting Soko with her very own Sylvie bag.
"The Gucci style has taught me to be more adventurous again," Dunaway told the Telegraph of the experience. ""Everything I tried on at the initial styling session I loved, and I mean everything! I was genuinely surprised."
Meanwhile, Soko has spoken out about her fondness for Michele's vision before, telling Antidote, "Right now I am really in love with Gucci. It's a brand that looks like me." Soko's own style, on the other hand, was what attracted Michele to her when he came across her Instagram profile. "Instagram is weird," she recently told Nylon, when talking about their fateful encounter. "But I love it, because how else do you connect with so many people you might not know?… Alessandro is an actual genius. I see his references to the art world, to historical periods, to Elvis. When I first saw his collections, I was like, Sh-t, I can see this guy's brain on the clothes. I felt like I already knew him even before I met him."
Michele has returned the praise, telling Nylon, "I immediately liked her [because of] her social media and her music. Then when I met her [in person] in London, it was as if we were already familiar with each other. I like her freedom and her idea of being openly on the edge of everything. She is never inside anything; she is always on the border."
Related: Tippi Hedren, 88-Year-Old Former Hitchcock Muse, Is Now a Gucci Model