Tippi Hedren, 88-Year-Old Former Hitchcock Muse, Is Now a Gucci Model
Dakota Johnson's grandma appears to have displaced her as Alessandro Michele's resident muse.
---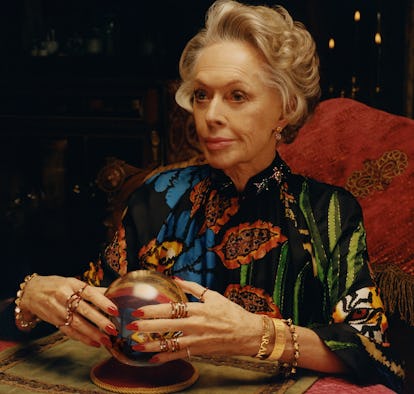 Photographed and directed by Colin Dodgson; creative directed by Alessandro Michele
Before she gave birth to her daughter Melanie Griffith, before Griffith gave birth to her granddaughter Dakota Johnson, and before she became Alfred Hitchcock's all-time muse, the actress Tippi Hedren was a Minnesota-born model, who got her start by appearing in department-store fashion shows before flying to New York on her 20th birthday and signing with the Eileen Ford Agency. After a decade of starring on the covers of magazine like Glamour and Life, she turned away from the industry to focus on film—at least for the next six or so decades, since it now turns out that Gucci recently convinced her to dust off her old modeling chops.
Of course, not only has the modeling industry changed since the 1950s, but so has Hedren, now 88, herself. (Her age puts her in good company: Some of the most standout fashion campaigns over the past year have been 78-year-old supermodel Veruschka's pairing with Acne Studios, and 73-year-old Lauren Hutton beating out Kendall Jenner as Calvin Klein's resident underwear model.) Hedren, on the other hand, stars as a fortune-teller, whom Colin Dodgson photographed cozied up with candles, crystals, and her fellow models Victoria Schons, Emily Unkles, Tom Atton Moore, and Tex Santos Shaw in a cozy, silk-covered alcove in Los Angeles. (Along with, of course, some of Gucci's new jewels and automatic watches, showcased as Hedren shows off her skills at crystal-ball reading and palmistry.)
As it turns out, not only is Hedren practiced at working with headstrong creative directors like Gucci's Alessandro Michele, but Michele is in turn used to working with actresses just like Hedren her granddaughter, Johnson, has in fact been one of Gucci's top stans and muses practically ever since Michele took over the house in 2015. (He chose her, for example, to be the face of his first-ever Gucci fragrance.) There's no word yet on whether Johnson was the one to introduce the two, or is perhaps even a little jealous of Grandma's new gig.
It should be noted that Hedren's last partnership with a visionary didn't end so well. When Hitchcock discovered her in 1961, it led to not only a number of now classic films like Marnie and The Birds, but also of stories about their tumultuous relationship, which ended with Hitchcock saying he'd ruin Hedren's career. In 2016, Hedren published a memoir detailing her own version of events once and for all, alleging that Hitchcock, who was outwardly known for being possessive of Hedren, also stalked and sexually harassed her.
Hedren seemed to wrap up that chapter of her life late last year, when she summed up her story once more to encourage those coming forward about sexual harassment in the post–Harvey Weinstein reckoning. So far, these days everything seems to be going quite smoothly for Hedren: She's not only made room for more diversity—specifically, more near-nonagenarians—in the modeling industry, but also done so while standing by one of her longtime causes, animal activism. And for the record, over the past year Gucci has officially gone fur-free.
Related: Move Over, Kendall Jenner: Lauren Hutton, 73, Is Calvin Klein's New Underwear Model